¨Pick a card, any card¨; those are words that we have all heard at some point in time. Whether the magician showed you the right is another story. Magic is something we all grew up with and has fun with. I used to the magic store as a kid buying all sorts of things so I could impress my friends at school. I can't remember if the magic tricks I tried worked. I guess I blocked that out of my mind for a reason, ha!
If you ask the magician how he/she did the trick, there is a good chance that they are not going to tell you. It doesn't matter since various free magic tricks sites reveal the secrets that all magicians are trying to hide.
11 Excellent Free Magic Tricks Sites to Learn Secret Magic Tricks and Hacks
In today's article, you'll get to know about 11 excellent free magic tricks sites that help you learn secret magic tricks and hacks for free.
About.com covers many topics. One of the many tricks it covers are the ones that you have always wanted to learn. I didn't see anything on how to see someone in half, but there are just so many tricks to choose from.
About Magic teaches you tricks such as learn how to levitate and spin a playing card above your hand, learn to make a bill rise over your hand and much more! I have always wanted to know how magicians make a card ¨fly¨ from one hand to the other. Now I know how it's done!
Thank goodness that it was a trick About Magic has on their site and I was able to discover how they did that finally. To do this trick, you are going to need black string, a small piece of a straw and a black background. You will need to paste the piece of straw to the back of the card and one end of the black thread. By doing this, you will form a type of loop. This loop is what allows you to move the card back and forth. How you place your hands is also imperative.
About Magic also has a section for Magic for Beginners, great card tricks for beginners and who the world's most famous magicians are. The only one I can think of is Davis Copperfield, but there are obviously a lot more. Sometimes reading about how a magic trick is done makes it a little harder to understand. If that is your case, About Magic also offer videos so you can see how to do the trick yourself.
Besides having a magical design (pun intended) goodtricks.net has an extensive list of great magics for you to try. You will discover some ice cool card tricks, Great coin tricks, simple street magic, cool levitating tricks and some amazing bar tricks.
I won't reveal how every trick is done, but I will tell you how to make a card disappear. You know that card tricks where the magician waves his hands in front of a card three times before making it disappear? You'll be amazed as to how easy it is.
What the magician does is snap his fingers in a way, so he throws the card off the table. You don't see that because he covers the action with the other hand. You will need to practice so that your hands also cover the card when it flies off the table.
In the Coin Magic Tricks, you will learn how to make a coin disappear, pull a coin from mid-air, coin through a glass, and the elastic coin trick. The list doesn't end there since the coin trick section has a large list of tricks to try. In that section, you can also learn to do tricks with paper money as well.
I recommend you check out the Levitation Tricks section. You will find some very entertaining tricks such as how to levitate a person.
Another free magic tricks site where you will find great magic tricks is FreeMagicTricks4U.com. It doesn't matter if you are just starting out with Magic or you are an expert since you will find videos for those levels. You will also find a small magic store with items that you will need to pull off your magic tricks.
You can also download free eBooks such as David Blaine Magic eBook, David Copperfield Magic eBook and much more! It also gives you the option to read how the trick is done or watch the video.
Even though card tricks are great; there is a good chance that you're not going to go to a bar with a deck of cards. If what you are looking for are easy magic tricks you can pull off at a bar, easybartricks.com is the site to check out.
Here, you will learn easy bar tricks to impress that lovely lady at the bar. All of the bar tricks are on a video, which in my opinion is better. You can learn tricks such as the bottle cap tricks, balancing coin trick, and the Bill trick. It may not have an extensive list of tricks to try, but the ones it does have are great.
Mr. Magician has some magic tricks that will surely impress the crowds with. When you first enter the site, it has an excellent sliding presentation where you can see October's most popular articles. You can choose between tricks such as the upside down card trick, half and half trick, sloppy shuffle trick, and the changing spots tricks.
If you are looking for a particular trick you can also browse through its categories. You can choose from categories such as card tricks, coin tricks, quick tips, pub tricks, stage magic, Famous magicians and magic tricks.
Don't judge the site by its design. It's not going to be as nice as the others, but it does have some great magic tricks to offer. To the right side of the site, you are going to see the categories you can choose from. You can impress your friends with card tricks, coin tricks, illusions, street magic tricks, gimmicked magic trick, vanishes, extreme card manipulation tricks, card forces and miscellaneous tricks.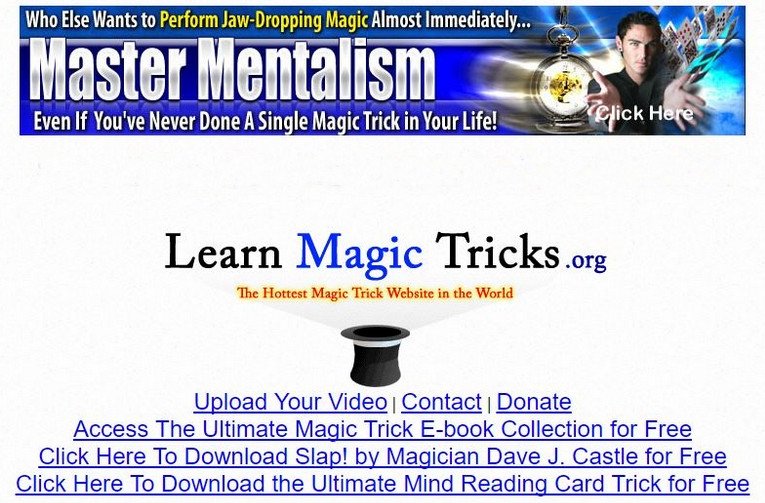 The magic tricks are separated into dates and are a bit disorganized for my taste, but the tricks are still great. You can even download a Magic course for Free!
Magic Tricks Explained is a little different from the rest of the free magic tricks sites. This free magic trcks site also tells you how world famous magic tricks were done. For example, it explains how Houdini pulled off his Death Escape and included a video of how famous magicians pulled it off as well.
Magic Tricks Explained brings in the big guns by teaching fantastic magic tricks such as how to walk on water. No one can walk on water, of course, but thanks to plexiglass you can. The site reveals magic tricks such as the elephant trick, building implosion, Oprah tricks, levitation and how to walk through a metal door.
If you're mostly interested in card tricks, then you need to check out the Encyclopedia of Magic. All of the card tricks you will see here are in a video format, and you will also have so many options to choose from, you won't know where to start.
There are some non-card tricks, but not many. For example, you can learn to make a coin disappear, do the gryphon roll, make the sponge ball vanish, and finger dexterity exercise (among others).
I couldn't forget about the kids. There are free magic tricks sites, especially for them and Magic for Kids is One of them. It has a very kid-friendly design and is very colorful. The videos are very easy to follow and teach tricks that any child can learn.
The person explaining the magic trick doesn't talk too fast that kids can't keep up. Kids can learn magic tricks such as the Magic Mail Box, Magic String tricks, Missing Card Hotline, and the list goes on and on.
Magic Tricks for Kids has a section where kids can learn about the history of magic and where they can see all the tricks indexed.
Another site, especially for kids, is Kid Spot. It too has a design that kids are going to love, and the magic tricks it teaches are easy to learn. For example, children can learn tricks such as the string figure magic trick, 33 card prediction trick, disappearing coin tricks and much more!
There are even magic tricks kids can try with calculators. For example, there is this one where Jill took 7000 steps and Jack took 714, where were they going? If you add those numbers up, the result (when read upside down) spells Hill! As you can see the tricks are very innocent and kid-friendly.
Rebel Magic doesn't fall far behind with the magic tricks it has to offer. It has a section called ¨What Type of Tricks Do You Want to Learn". In this section, you can choose between the Essentials, Casual, and Professional tricks.
In the Essentials Magic Tricks section, you can learn seven tricks. You can choose between the False Cut, The One-handed cut, how to force a car, The double lift, The Elmsley Count, and the Punky Break.
The Easy/Beginner/Kids Card Tricks has a total of six tricks. You can impress your friends with tricks such as David Blaine's Simple Card Trick, Brilliantly Simple, Graham Jolley's Amazing Cards Trick, The power of four, Make a Card Float and Signed Card Travels to Pocket.
If you are not new to magic and want to try something only advanced of professionals would try, you have nine tricks to choose from. You can choose from tricks such as:
Dream of Aces by David Copperfield
David Blaine's Supernatural, Card Tricks
David Blaine's Hanf Sandwich Card Trick
How to Produce Cards out of Thin Air
David Blaine's Card in Lemon Trick
The Signed Card by David Blaine
Flick a Card out of the Deck Trick
Shapeshifter Color Change Trick
The Rising Card Trick
There are other types of tricks you can try such as Mentalism, and Mind Reading and Hypnosis tricks.
The Pro Review from TechReviewPro
Magic has always been fun and entertaining. With these 11 free magic tricks sites to learn magic, you will have enough material to keep everyone entertained for hours and hours. You could learn enough magic tricks to be able to compete with any of the advanced magicians out there. What is your favorite magic tricks? Let me know which one it is in the comments.
Also Read: