The World Wide Web is full of URLs, you know. Uniform Resource Locators help you to access web content without really having to remember the IP addresses! As people became busy, they wanted everything to be quicker. That's how we made the way for Short URLs. As you have seen, short URLs are very short — easy to manage, copy, paste and even to remember. For instance, you may be familiar with www.fb.me, which is the short URL for Facebook.com. Now, we can find many URL shortening services (also known as online URL decoder tools) that can help us decode URL online. Some of these online URL decoder tools can be used online right through the website while others can be integrated into your CMS.
However, there is a problem with these short URLs. Until you open it, you can't know where a short URL leads you to. Of course, URL Shortening is a kind of masking for bigger URLs. That having said short URLs could be a significant threat to your privacy and data. What do you do if a short URL leads you to a malicious site and gets everything troubled? Although malware removal tools can be helpful later, yet it is a wise idea to browse safely. So, it is necessary to decode URL online and know where a short URL leads you to.
Also Read: Top 6 Best Private Search Engines for Anonymous Web Surfing
Decode URL Online – 6 Best Online URL Decoder Tools to Know Original URL
To help you with that, we will tell you about the best Short URL Decoder tools. Using these URL decoder tools, you can find out its original URL before clicking. So, the next time you find something fishy, you can use one of the tools to know original URL.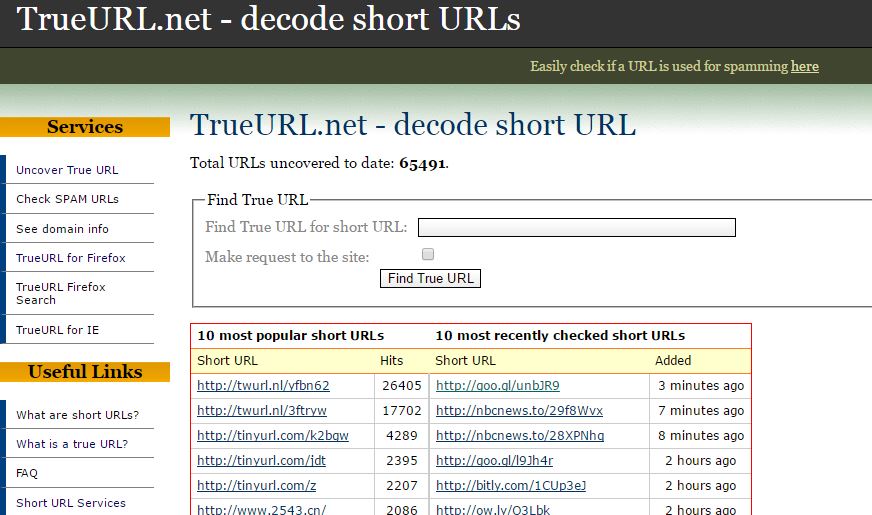 TrueURL.com is a useful short online URL decoder you can use. It supports various URL shortening services — including common and non-common ones. Using this online URL decoder tool is an easy task. On the website, you need to paste the short URL and click on 'Find True URL' button. In seconds, you can get details about the original URL behind. In some cases, you can also find domain information. It includes URL, title, rank, load speed, locale, the presence of adult content, etc. Also note that TrueURL.com has an official extension for Firefox, Thunderbird and Internet Explorer. They may be updated but would serve the purpose. TrueURL.com keeps a database of short URL-actual URL combinations, and its results are based on the database.
CekPR.com is yet another online URL decoder service that makes sense. The URL decoder website looks pretty archaic, and there's no feature to be boasted about. Despite all these, the URL decoder does the job well. When you enter the short URL into the given area and press the 'Search' thumbnail, you'll get details about the actual URL behind. In a second, you will see the short URL and the actual URL — organized very well. In case if you don't want to head to the site always, you can use the official bookmarklet of CekPR.com. Overall, it's pretty easy to use this online URL decoder.
Unshorten.it is a quite popular and widely used online URL Decoder service, which is quite minimal in design. When we are comparing it to other websites, Unshorten. it has plenty of features to offer. You have to paste the URL and click on the button to decode URL online. In the same page, you'll get enough information about the original URL. You can know the title, description, Safety Ratings, etc. of the original URL. You can also see the screenshot of the webpage you are directed to. This way, you can reassure that you're in the right place. If you are satisfied with the information given, you can go to the real web page else ignore it. In addition to the web-based service, Unshorten.it has browser extensions for Chrome and Firefox, along with the API.
Unshorten.me is yet another minimalist online URL decoder solution to decode URL online and find out the original URL behind a short one. Its working is very easy — you have to paste the URL, click the button and scroll down. Right on the page, you can know the source URL, source domain, destination URL and target domain name. The URL decoder website also has a shortcut that leads you to the Internet Safety User Score. So, without actually visiting the destination site, you can know about the target URL safety. In addition to the online URL decoding service, Unshorten.me has a URL Expander service as well. You can also get a free API to be embedded in your app/site.
5. Link Expander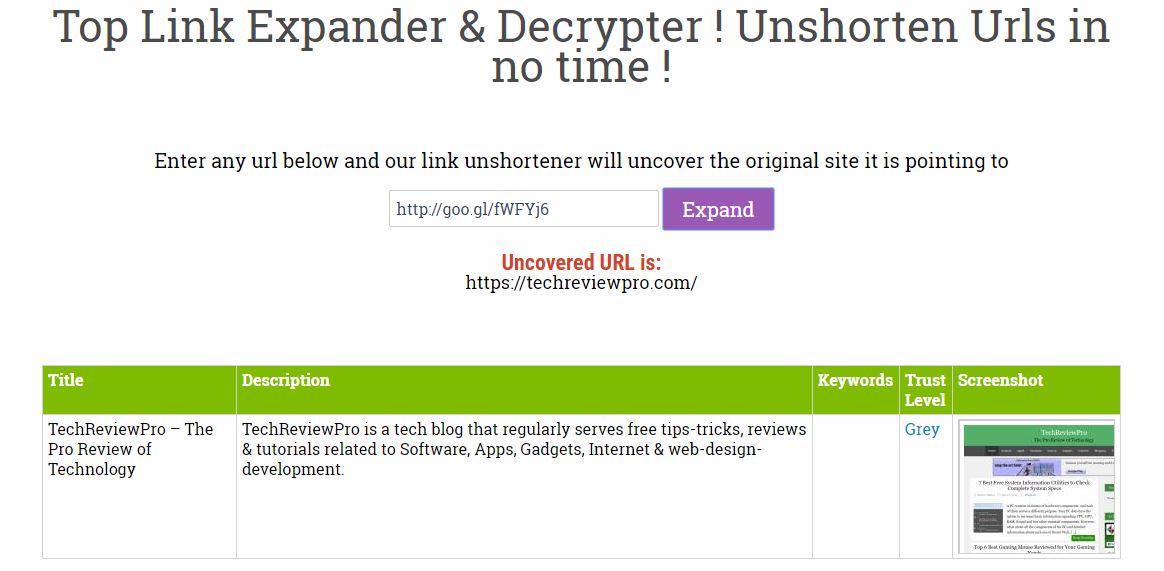 Link Expander is one of the most used short URL decoder services. In a span of seconds, you can expand or decrypt a set of short URLs you come across. Right after you have done the result, you can see the actual website as a link. In addition to these, you can know the title, description, keywords, Trust level, etc. of the site. Here, you can get an up-to-date screenshot of the website too. Link Expander results are very quick and are useful when you have no time. It is a mobile-compatible service that supports a wider range of URL shortening services. Services such as Bit.ly, Goo.gl and Adf.ly will work fine with Link Expander. And, apparently, you can trust the results.
With GetLinkInfo, we end our list of top online URL decoder services out there. Once again, it's a simple URL decoder tool that will not consume your time. The only thing you have to do is to paste the short URL. In a single click, you can get enough details about the destination webpage. Instead of showing the proper redirections, GetLinkInfo shows you the entire chain of URL redirections. You also get to know the number of external links and the safety of links. On top of all such details, GetLinkInfo can give you information about whether the destination site is malware-free. All the details are drawn from Google, and you can rely on that. In case if you want, you can get more information about each URL shown on the site.
Also Check: 5 Best URL Shortener Sites to Shorten Long URLs for Free
The Pro Review from TechReviewPro
So, you have seen the best online URL Decoder services you can find! Depending on the service, you get more details or the opposite. Either way, all these URL decoder tools will decode URL online and show you the original URL behind short URLs you see everywhere. As we said, the URL decoder tools are useful for ensuring the web safety. For instance, if you find something suspicious, you can use a URL decoder tool from the list. It's a fact that your antivirus may have an inbuilt solution for finding the real URLs behind. If you don't have one, just pick one URL decoder service from the list.
Don't Miss: