When it comes to the faster indexing of a site in search engines, XML Sitemaps play a crucial role. I have already discussed that indexing a site in search is the first and foremost step towards Search Engine Optimization. One common tip that many blogging and SEO experts provide is to create an XML Sitemap of your site. And submit it to various search engines using webmasters tools. But many new bloggers and webmasters don't know what an XML Sitemap is. So this post is to help them know the basics and learn to create an XML Sitemap.
Some years back, when we used to visit any government website, we could often see a link to their home page. The link could be either in the footer or top menu, titled as – "Sitemap." This link usually contained a list of URLs in HTML formats. In HTML forms, Sitemaps were created manually. But things changed, and there has been a shift from HTML formats to XML. Later, we could find such similar link and same text in blogs or sites. That's how this trend of XML Sitemap started.
Google first introduced sitemaps in June 2005. And other major search engines including Yahoo and MSN announced joint support for sitemap protocol in November 2006. You can read more about history and evolution of Sitemaps from the Wiki article.
What is an XML Sitemap?
An XML Sitemap is a list of all the URLs of the site in XML format. XML sitemaps are a way to tell search engines that which URLs are publicly accessible on your site. This helps search engines in deciding which URLs to crawl and index, as well as which not to crawl. Sitemaps are also known as URL, including protocol. Because they tell search engines to include the URLs of a site.
Why is it Important to Create an XML Sitemap of a Site?
It is very important to create an XML Sitemap of your site. Whether your site is new or old, XML Sitemaps play a significant role in SEO.
1. New Websites/Blogs:
For new sites, XML Sitemaps are a lifeline. When you launch a new site, you hardly find it any visibility in search engines. Even your new posts don't have that many backlinks so that it could tell search bots to crawl your site.
Thus, an XML Sitemap having the list of all newly published URLs, help search bots to crawl your site efficiently. And a fast and efficient crawling ensures your every URL is indexed properly. Thus, increasing the visibility in search engines. Though an XML Sitemap is not beneficial in improving your ranking, it is useful in increasing visibility.
2. Old or Popular Websites/Blogs:
Having an XML Sitemap is of even more importance for popular sites as compared to new one. As popular sites contain a large number of URLs, so an XML Sitemap makes sure that those URLs are indexed properly. Especially if you keep updating your site regularly, you would definitely like to let search engines first know about updates.
So an XML Sitemap not only lets search engines know first about updates but also decrease indexing time. Thus, increasing your overall visibility and appearance in search results.
How to Create XML Sitemap of Your Site?
There are several ways you can create an XML Sitemap of your site. So here is a quick guide.
1. Blogger or Other Blogs –
Blogger blogs whether self-hosted or Blogspot can easily create an XML Sitemap using an online tool – XML Sitemap generator. All you have to do is – enter your blog URL and few other basic details.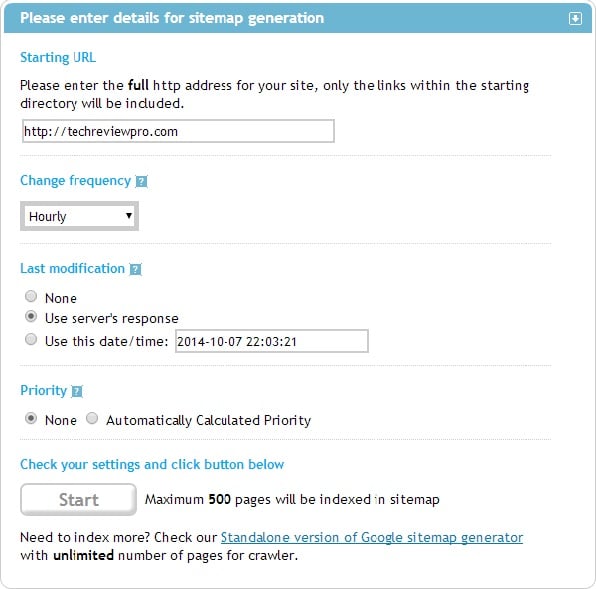 Even this free tool works for blogs running on other platforms. But make sure you have less than 500 pages.
2. WordPress –
WordPress being "Power Hub of Plugins" offers many plugins to create an XML Sitemap of your blog. Some popular plugins to create XML Sitemap are Google XML Sitemap and SEO by Yoast. Read the step-by-step instructions to create a WordPress Sitemap easily within 1 minute.
What Next After Creating XML Sitemap?
As you have created an XML Sitemap of your site, you can submit it to many search engines to ensure the proper indexing of your site. Go to webmaster tools of each search engine and submit it.
The Pro Review from TechReviewPro
An XML Sitemap is very helpful in getting your posts indexed in search engines. So create one and submit it. But make sure you provide a link to Sitemap somewhere in the home page. This makes crawling faster.
Read : Best WordPress Permalink Structure for Easy Crawling and Indexing
However, I would recommend creating separate sitemaps for various resources in your site. For example, one for blog posts, one for images, one for videos etc. This is much helpful.
Do let me know if these methods worked to create an XML Sitemap of your site in the comment section. By the way, do you have separate sitemaps for each type of contents ?
More Resources :