Wish is an interesting shopping app which connects the buyers directly with the manufacturers for the cheapest deals possible. It is an incredibly popular app for Android and iOS, and you would want more cheap shopping apps like Wish, right?
Of course, if you are a shopaholic, you need more options, right? Nowadays, you will find every new ecommerce website or app offering a special deal – which is usually exclusive. So, you should browse through all the alternative apps available for the best shopping deals.
For the very same reason, we will list all the best wish alternative shopping apps that we think you would like.
Note: The shopping apps like Wish are listed in no particular order of ranking. Choose what you think the best for your shopping needs.
11 Cheap Shopping Apps like Wish
Looking for the best alternatives to Wish app? We have got you covered with 11 best shopping apps like Wish. We'll also provide the download link for each of these Wish alternatives.
So no matter whether you looking for a cheap shopping app like Wish on iOS or Android phone, here, you'll certainly find some cheap shopping apps similar to Wish.
1. AliExpress
AliExpress is one of the hottest shopping apps for almost any type of stuff that you want to purchase. For me, it will be about all things tech, for obvious reasons.
You get insane cheap deals and some good alternatives to branded items as well. Fret not, the shopping experience using this app is secure and can be trusted with. However, you have to keep the customs in mind – depending on what country you live in, your order might never get to you.
But, then again, they offer refunds and buyer protection as well.
Download: Play Store / App Store
2. Overstock
Overstock is yet another cheap alternative to the Wish app. It offers upto 70% discount and also ships to a wide range of countries. You will find flash sales and clearance sales to be the MVP of the service.
In addition to those, the normal deals end up pretty cheap as well. However, you will find the best deals for furniture, and decor items. It isn't the best place for tech – but you can search for them if you would like.
Download: Play Store / App Store
3. Zulily
Zulily is yet another cheap shopping apps like Wish, however, it's a popular trend among women for the latest fashion in store. We would recommend you only for women clothing, kids, and beauty products.
They've also got a wide range of shoes to choose from – that goes with your outfit. In addition to these, you will also find essential home and office items listed at affordable prices.
Not every product is cheap here – but the deals are quite interesting, so you should look out for them.
Download: Play Store / App Store
4. Joom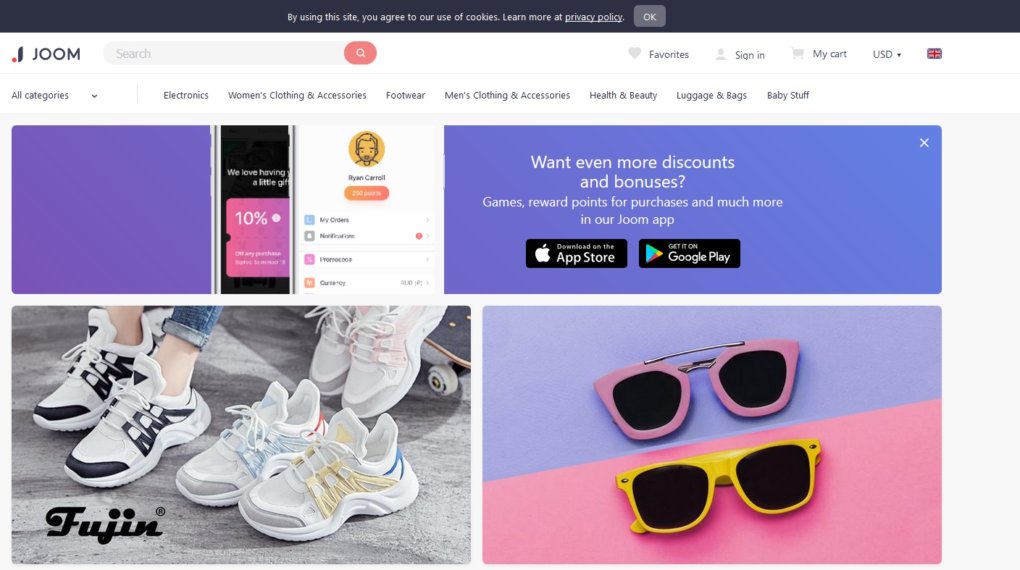 Yet another interesting wish alternative that claims for the cheapest deals ever. I haven't personally used it – but with what I get to hear from the people who have used it (and the online forums), they've got a good experience with them while offering big discounts as well.
You will encounter deals with discounts up to 80% every week and they offer free shipping as well. Unlike some other cheap shopping alternatives to Wish, you can expect products from almost every type of category there is.
Download: Play Store / App Store
5. Banggood
A less known alternative but it is slowly being a popular shopping app for customers looking for the cheapest deals online. The items range from furniture to tech accessories and what not. You will also get rewards for your orders and later redeem them for some coupons or discounts as applicable.
It is well-known for electronic items and gadgets, so look for them first when you get it installed. In addition to the deals, it also supports paying over Google Pay (if it is supported in your Country).
Download: Play Store / App Store
6. Geek
If you do not want to use anything else than Wish's app but want a tailored experience for gadgets and electronic items, Geek is the way to go.
Geek isn't technically a separate alternative but Wish's app-focused only for geeks looking to try new tech at dirt cheap prices.
Of course, enthusiasts do not care about the brand but hop on to try new tech available. So, considering that and Wish's trust scale – Geek is a great app.
Download: Play Store / App Store
7. Hollar
Also, popularly known as the dollar store. So, you can expect $1 deals regularly without any shady offers or conditions.
It does not have the largest product listing compared to the others – but if you keep browsing it, you will find some real steal deals.
You'd never image what you would get for around a dollar. You must check it out!
Download: Play Store / App Store
8. Cute
No, we're not saying that you are cute. Maybe, who knows? But, this app "Cute" is an amazing alternative to Wish app where it focuses only on beauty products.
You will also find some insane discounts up to 95% which sells like a hot cake. If you are someone in Europe or North America, we will recommend having this installed.
Download: Play Store / App Store
9. LightInTheBox
LightInTheBox may not be the most popular alternative there is – but its huge product database, insane discounts, and features like Group Buy makes it something worth checking out.
They even support wire transfer and western union in case you have no other options for payment. You will get 10% off for being a new customer, what more do you want? Check it out!
Download: Play Store / App Store
10. YoShop
Something similar to the ones we mentioned above. Even though you probably did not know about this – it is one of the decent alternatives there is.
Everything ranging from clothes, fashion picks to gadgets and electronic accessories. It offers free shipping to anywhere in the world as well.
You won't find dollar deals here – but great discounts coming your way after you install it. Try out this cheap shopping app!

Download: Play Store / App Store
11. Mama
Mama is focused on Kids products, trending maternity items, and similar things. 50-90% off on the products for your loved ones. Similar to Cute, if you live in Europe or North America, we will recommend having it installed if you require these products at insane discounts.
You will find flash sales as well – and as you browse through, expect personalized recommendations for all your shopping needs.
Download: Play Store / App Store
Wrapping Up
Of course, cheap shopping apps like wish exist – but depending on what you like to shop for and considering where you live, you should definitely inquire about the customs and extra charges – if any – before ordering something valuable.
Do you still prefer to use Wish after knowing about the alternatives? If not, what do you use the most for your shopping needs?
Let us know in the comments below.
Related Resources: