GIF is one of the most preferred formats when it comes to promoting online marketing campaigns and increasing the online reach of a brand.
Some of the primary reasons for the GIF format being so popular is the fast loading time, cost-effectiveness, etc. If you have a requirement where you need to deliver accurate visual information, GIF will be your definite answer.
There are several instances where you might have to convert videos to GIFs to ensure that your video reaches the right way to your target audience. The right video-to-GIF converter can ensure that you are able to do it in the right way and without losing the quality even a bit.
I have analyzed and explored various video-to-GIF converters that can be effectively used to convert video to GIF. If you are looking for one, just read out the list, check out the features of the converter, and see which video-to-GIF converter fits your bill the best.
Also Read: 9 Best Chrome Addons to Create Animated GIFs Quickly
Top 11 Best Video to GIF Converters to Convert MP4 to GIF
Check out the best video-to-GIF converters that you can effectively use to convert your video file to GIF format below.
Adobe comes with a platform named Adobe Express that lets you convert your videos to GIFs with little effort, and no cost. You may easily transform your videos into GIFs using the free video-to-GIF converter online tool by Adobe Express.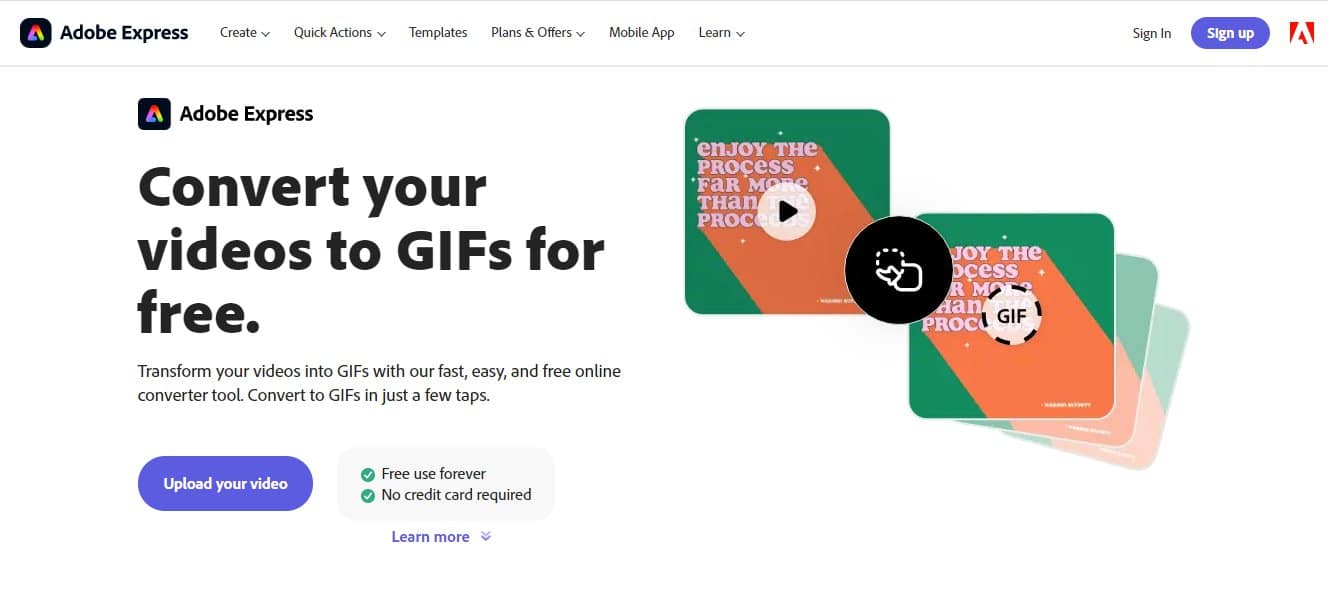 Features of Free Video-to-GIF Converter by Adobe Express:
a) Adobe Express offers you top-notch video editing features. You can use these features to edit both, the video before conversion and your GIF file after conversion.
b) You get a number of customizable template options with this free online converter tool. You can effectively merge any of them with your GIF to make it look amazing.
c) You can choose various aspects like the resolution, video size, etc. before you save your GIF file. You can save the file as per your requirements.
d) As mentioned, Adobe Express lets you convert your video file to GIF with minimal effort and zero cost.
FlexClip is another functionality-rich and high-quality video-to-GIF converter that you can use with utmost ease to convert your video file into GIF. It just takes a few seconds to turn your videos into GIFs using the Video to GIF converter tool by FlexClip.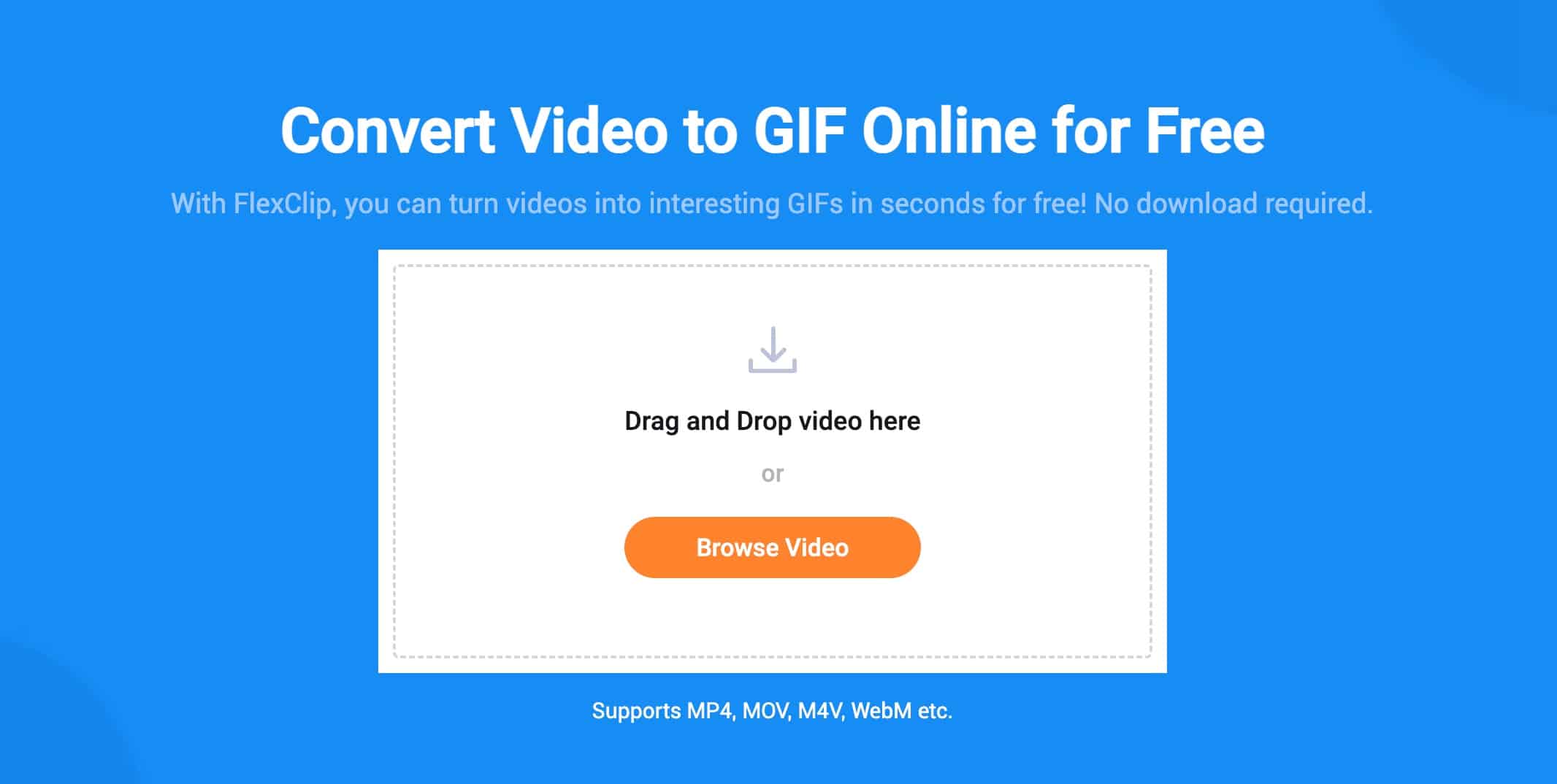 Features of FlexClip Video to GIF Converter:
a) FlexClip has a highly functional video-to-GIF converter tool that comes with a wide range of features alongside. You can effectively use these features to ensure that your GIF output is amazing.
b) The entire process of video-to-GIF conversion is quite intuitive and smooth. You will enjoy working on this converter.
c) The converter allows you to edit your video prior to conversion and GIF output after the conversion the way you want. The flexibility to customize content on this platform is quite high.
This is the simplest yet one of the most popular video-to-GIF converters that come with a very simple process to convert any video file into a GIF.
Features of Video-to-GIF Online Converter:
a) Using Online Converter is quite easy. You just need to upload the video file you desire to convert, and the tool will manage the rest for you.
b) With this Video-to-GIF converter tool, you can stay assured of the fact that the output quality will be maintained to the fullest.
c) In terms of editing, you can either cut the video or set the required frame rate.
d) You can even add the video URL that you desire to convert to GIF. This video converter tool does support converting videos to GIFs via URL, which is a unique benefit of the same.
Convertio is another top-rated MP4 to GIF converter. The online converter allows the conversion into more than 200 formats, and GIF is effectively one of them.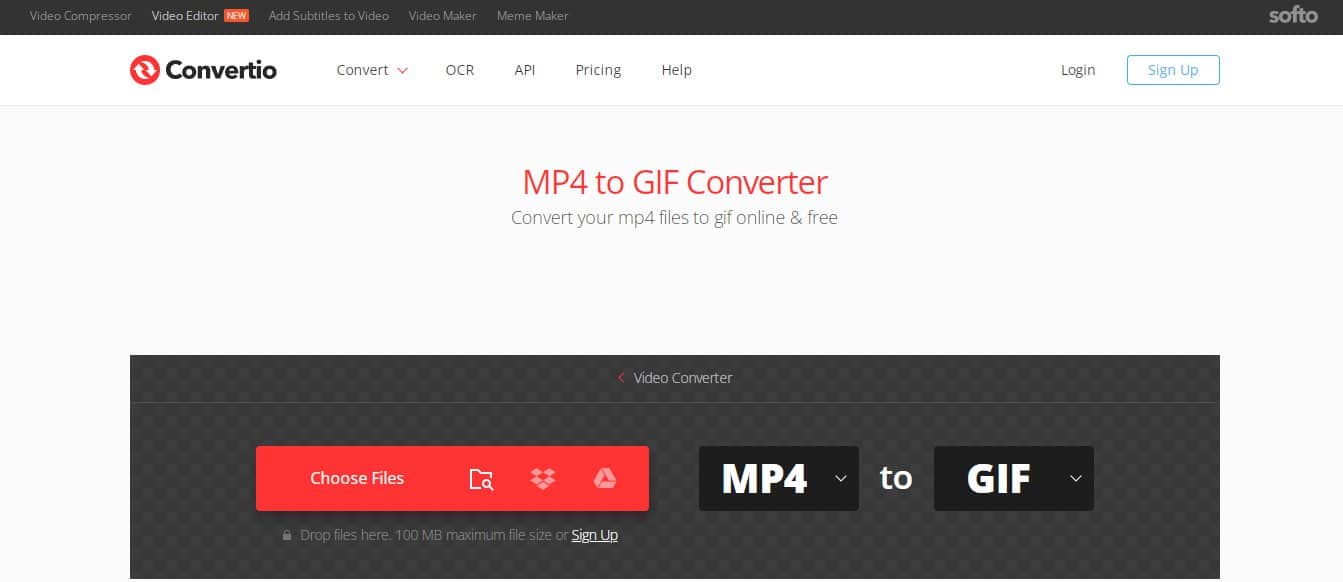 Features of Convertio MP4 to GIF Converter:
a) This advanced converter allows you to convert the file by uploading from Drive, Dropbox, or even a URL.
b) The Video-to-GIF converter tool comes with that extra layer of security along with deleting the uploaded files from the server within 24 hours of the upload. Hence, you can stay ensured of the security aspect with Convertio to the fullest.
c) Convertio is an extremely efficient tool in terms of speed. It actually completes the conversion of files within a few minutes.
d) Convertio entirely works on the cloud. Hence, you experience better processing, enhanced security, and an amazing user experience with this tool.
e) You can customize various factors like aspect ratio, rotation, etc. with this tool. Also, from start to end, the tool maintains the quality of your GIF files to the fullest.
Imgur is a popular image hosting site, however, you can effectively use this tool to convert video into GIFs. With this tool, it's just about pasting the URL of the video, and it does the rest.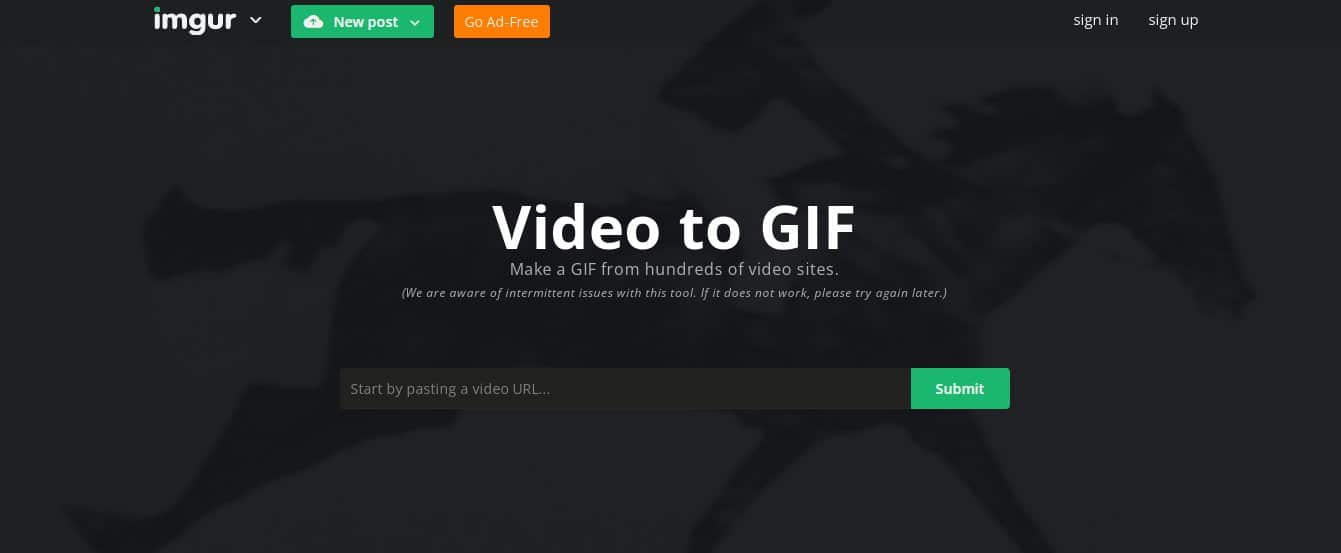 Features of Imgur: Video to GIF:
a) Imgur offers an interface that is extremely easy to use. As mentioned, just paste the URL of the video file you desire to convert, and this tool does the rest.
b) You can add captions to your GIF on Imgur itself. Hence, if you have a lot of social media posts to convert and post, you can reduce your efforts to some extent from here.
c) Imgur really comes with multiple applications. You can explore the tool, and I am sure that this tool will cover a majority of your requirements.
MakeAGIF is not only a video-to-GIF converter, it is an animated GIF maker which allows you to create GIFs online for free. In fact, it can convert anything into GIF. This versatile converter has been a favorite of numerous content creators for a while now, and all for good reasons.
Features of MakeAGIF:
a) As mentioned, no matter what your GIF requirements are, you can count on this animated GIFs maker tool to cater to them efficiently.
b) If you are a creative person having a creative mind, and desire to play with your GIF output to shape it to perfection, this MP4 to GIF converter tool is the perfect platform for you.
c) The tool offers you numerous animation options that you can effectively add to your GIFs. These animations can add that engaging factor to your content.
d) If you decide to go with the premium version of this tool, then you will be getting highly advanced editing features along with efficient options to enhance the looks of your GIF output. The quality of the premium features offered makes it absolutely worth investing in this online Video-to-GIF converter tool.
Yes, Imgflip is quite a basic converter, but if you don't have those advanced requirements, the Imgflip animated GIF maker tool would do the job perfectly right for you.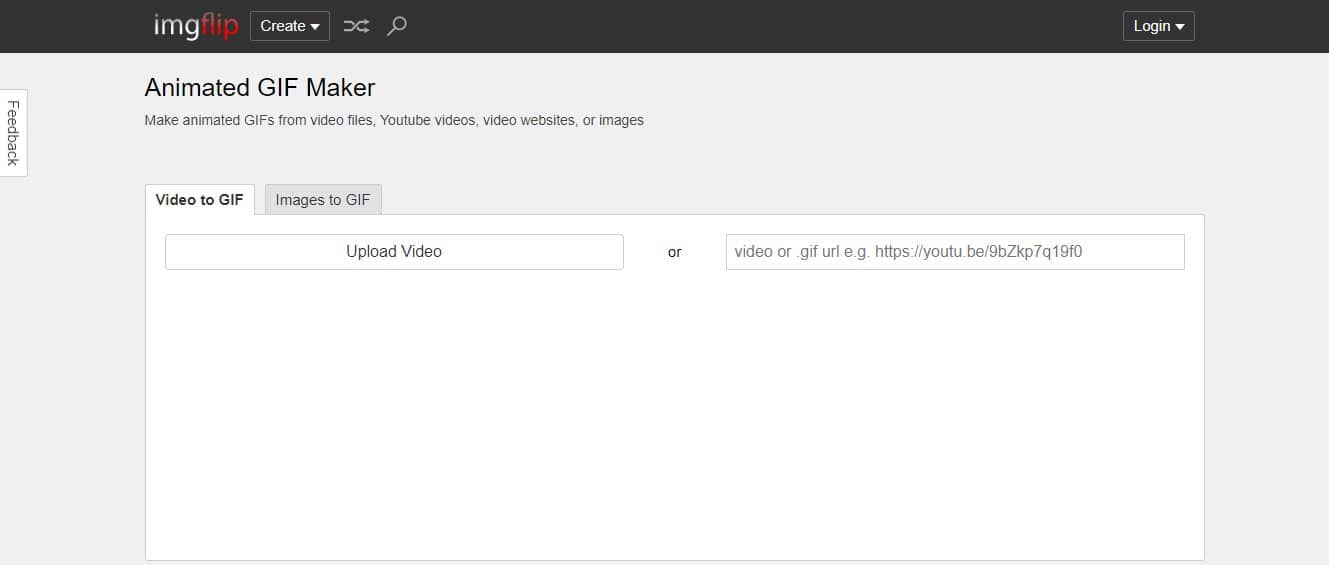 Features of Imgflip Animated GIF Maker:
a) Even if you aren't a techie, you can use the Imgflip converter with the utmost ease. You won't be facing any sort of technical challenges by any means while using this tool.
b) Imgflip is extremely fast when it comes to conversion. You need not wait anxiously for several minutes to get your output GIF. Just a few seconds and you are all good to go.
c) Yes, this tool doesn't have those advanced features like other converters, but, you can stay assured that the quality of your GIFs won't be degraded by any means.
d) The video-to-GIF maker tool is highly compatible with every class of device. No matter what device you are using, you won't face any sort of compatibility issues at all.
Ezgif, as the name suggests, is an extremely user-friendly video-to-GIF converter that you can use to convert video files into high-quality GIF output.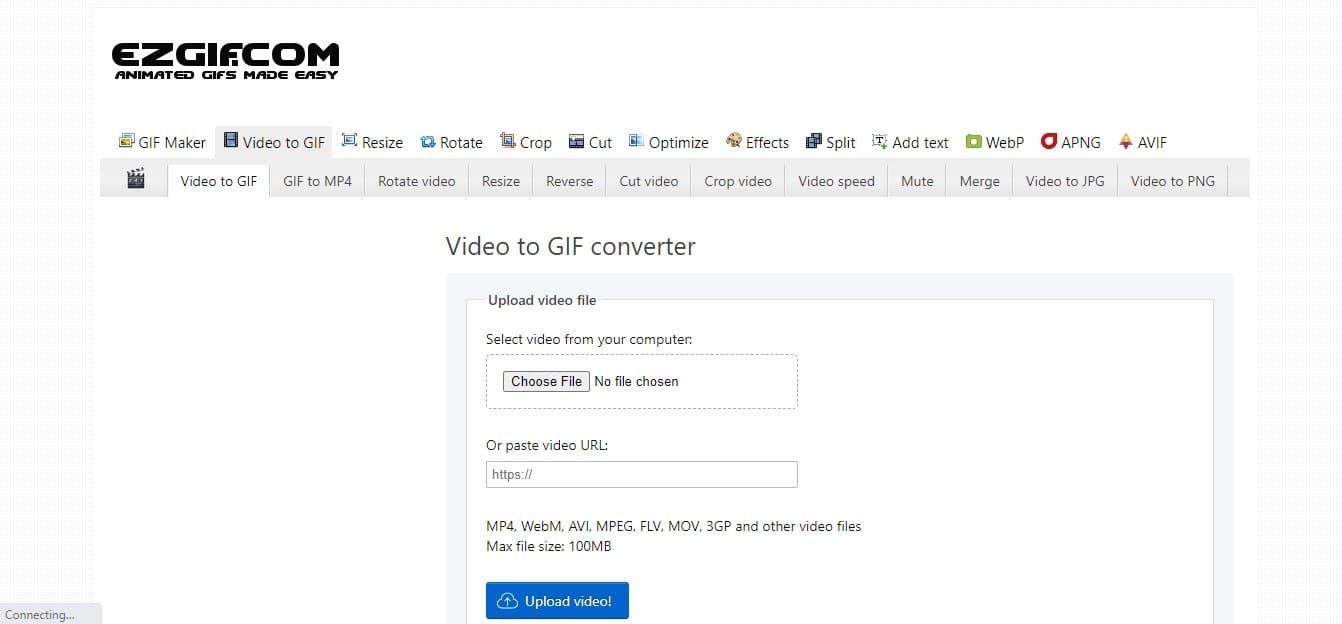 Features of Ezgif Video to Animated GIF Converter:
a) Converting a video to GIF using this tool is just a matter of two simple steps. Just upload the video, let the tool convert the same, and export your GIF output.
b) You can rotate, resize, optimize, give special effects, and much more to your GIF output. The animated GIF converter tool gives you immense flexibility to play with things.
c) Ezgif comes with multiple conversion applications. Hence, it can cover your multiple requirements with regard to conversion, which eliminates the need for you to use different converters.
Giphy, regarded as one of the best online video-to-GIF converters, processes up to 2 million files per day. This feature-rich tool ensures that you get the best conversion features along with amazing output quality.
Features of Giphy gifmaker GIFs:
a) Giphy allows you to edit your files in various ways. Whether changing the file length, adding captions, stickers, or anything, Giphy allows you to play with everything.
b) Giphy does allow you free cloud storage. You can save your files directly here. Hence, if you have storage issues and a large number of files to save, Giphy is your definite answer.
c) You can add amazing animations offered by this tool to your GIF files with Giphy. These animations can really enhance the engagement of your GIF files.
The primary application of Tenor GIF Maker is to create GIFs and stickers, but you can also use this converter to convert videos to GIFs.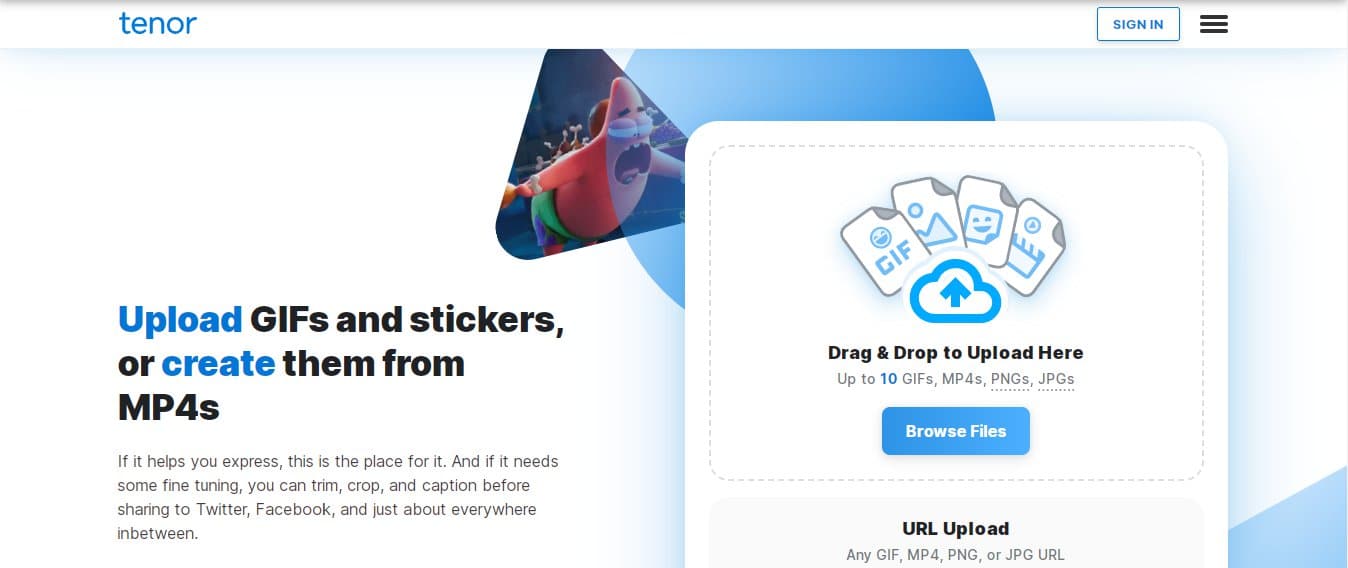 Features of Tenor GIF Maker:
a) Tenor GIF Maker provides you with a fun platform to trim, crop, or even add captions to your GIF. The platform offers a high user experience and also adds that fun element to your process.
b) You can share your created GIF directly from here. Again, if you have a lot of work to do, this platform can actually make it easy for you to share your content, hence, saving your time and effort considerably.
c) Tenor GIF Maker does integrate with your keyboard. Hence, along with converting video to GIF, if you desire to create a new GIF from the scratch, Tenor makes things easy for you to a considerable extent.
GIF Brewery by Gfycat is a top-rated video converter for Mac users. The converter has been helping several users create amazing GIFs for a while now, and hence, has been recognized as a reliable tool all over the world.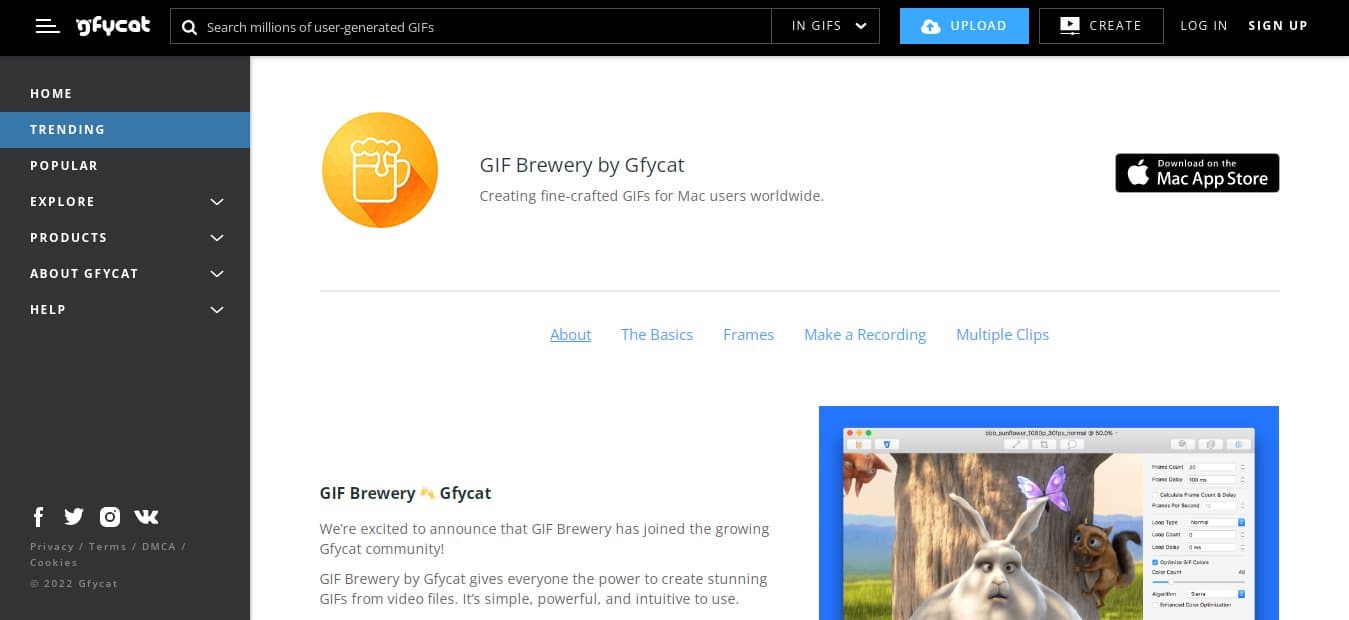 Features of GIF Brewery by Gfycat:
a) Gfycat is really a powerful, intuitive, and efficient video-to-GIF converter app for Mac that can help you convert videos into GIFs within a few seconds.
b) You can apply filters, crop the image, resize the image, etc. to ensure that your GIF output looks amazing and matches your requirements. The converter does offer you editing flexibility.
c) Gfycat is quite intuitive and extremely simple to use. You can create GIFs with ease and with little effort by using this MP4 to GIF converter tool.
Also Read: 11 Best Anniversary Video Makers to Make a Video for Wedding Anniversary
Frequently Asked Questions About Video to GIF Converter Tools
Does a video-to-GIF converter degrade the quality of my output?
Whether a video-to-GIF converter degrades the quality of your output or not, all depends on the converter you decide to go with. Some video-to-GIF converters do retain the quality of the output, while some don't. Hence, make sure that you select the right quality to retain the output quality of your GIF file.
What is the ideal duration of a GIF?
When it comes to the ideal duration of a GIF, there are no restrictions or an ideal timeframe for a GIF. However, I highly recommend not keeping the length of the GIF length of more than 5 seconds. A GIF of a longer timeframe than 5-10 seconds might pull off the user's interest.
What makes an eye-catching GIF?
An eye-catching GIF is short yet crisp, passes the message in a clear way, is smooth, and most importantly, the one that doesn't beat around the bush. Also, it's always a bit playful, and simple. Don't try to make it more complex as it might take away the interest of the users.
My video does contain sound. Can I keep it as it is in a GIF?
No. The video sound will be removed when you convert it into GIF, as a GIF file never contains any sound.
How do I reduce the file size of my GIF output?
To keep the file size of your GIF output low, make sure to keep the timeframe of your GIF output low. Also, keep the resolution of the GIF as low as possible. Decreasing the frame rate is also a reliable way to reduce the file size of your GIF output.
Also Read: Top 10 Best Video Trimmer Apps for FREE Video Trimming and Cutting
The Pro Review from TechReviewPro
The right video-to-GIF converter can ensure that the GIF output is of top-notch quality, and matches your requirements completely.
Yes, there are plenty of options available when it comes to MP4 to GIF converter tools, but the above list must narrow down the options for you, and hence, ensure that you select only the best. Too many options can always bring confusion alongside, and it's always better to be a bit specific in terms of selection.
So with which video-to-GIF converter are you going? Which online video-to-GIF conversion tool do you feel does win the race in terms of conversion? Do comment down your answers and let me know your choice.
Related Resources: