PDF is one of the most popular file formats, nowadays. Adobe developed the PDF file format in 1993. PDF – which stands for Portable Document Format – is primarily used for storing complex text documents and e-books. A PDF file contains fixed layout properties and can store significant amounts of text and graphics. The PDF file format is mainly used to distribute large documents.
The main advantage of using a PDF file to distribute a document is that it appears all the same to every user, regardless of the device being used to view the document. This is because a PDF file contains fixed layout configuration within itself. Additionally, PDF files can be easily watermarked and secured with passwords. However, the main disadvantage of PDF file format is that PDF files are hard to manipulate or edit. Even though a PDF file appears similar to a Word document, it is not quite an easy task to modify a PDF document.
Luckily, there are many PDF editing software that can be used to edit PDF files, but most of the good ones tend to be on the pricey side. These tools tend to be pricey as they feature OCR (Optical Character Recognition) technology, which converts the text from non-editable format to editable and machine-friendly format and thus allowing users to edit the text with ease.
Also Read: 11 Best Online PDF to Word Converters & Word to PDF Converters
10 Best PDF Editors to Edit PDF Files
On the other hand, some free PDF editing alternatives also exist for casual users, which offer basic PDF editing features. Free PDF editing software lack OCR technology. These free PDF editors work similar to the Windows Paint tool, but they allow users to edit PDF files instead of image files. These PDF editors enable users to erase anything, such as text, images, etc. and add new text and images to the document.
In this article, we will take a look at 10 best PDF editing software for editing PDF files. Some of these tools might be a bit too costly, but each one of them has its pros and cons. Let's take a brief look at what each of these best PDF editor tools has to offer you.
1. PDFelement 6
If you are into PDF editing for at least a few months then you must be knowing Adobe Acrobat to be the best PDF editor to edit PDF files. However, if for some reasons, you don't like Adobe Acrobat Reader, there are much more reasons to choose PDFelement 6 as the best alternative to Adobe Acrobat Reader. PDFelement 6 is one of the best PDF editors from Wondershare that is a full feature, easy to use and the cost-effective, that's why it's the best Acrobat alternative. It supports to Windows, Mac, and iOS. It makes PDF editing experience smoother and allows you to create best PDF files for personal as well as business use.
PDFelement 6 help you to create PDFs containing images, forms, graphs, or other objects that you may wish to have in a PDF file. It combines various functions such as create, edit, sign, convert, and OCR PDFs all in one basket. The PDFelement has some essential benefits and features that you may want to experience.
Use digitally created signatures to sign your PDF for professional use.
Converts other file formats to PDFs including Office file, EPUB, HTML, images, and other 300 file formats.
Supports conversion of non-fillable PDF forms to fillable PDF forms.
Extracts data from hundreds of identical PDF forms into a single worksheet.
The OCR helps convert scanned documents to searchable, selectable and editable PDFs.
The batch process feature helps convert multiple documents at the same time.
Unlike other PDF editors that charge recurring amount, you can get it for a one-time payment of $99.95. It comes with 30-days money back guarantee as well.
2. Adobe Acrobat DC
What better PDF editor tool to use than using the Adobe's proprietary Acrobat Reader to edit PDF files, but only if you can afford to pay a subscription fee of $25 per month for the Pro version and $23 per month for the Standard version.
Adobe Acrobat is a powerful PDF editor tool that allows users to edit PDF files easily and converts a PDF file to a searchable document with the help of OCR technology. Additionally, users can easily convert PDF documents to Microsoft Word documents and vice versa. Adobe Acrobat also allows users to add annotations and extract various image files from a PDF.
3. Foxit Phantom PDF Editor
Foxit Phantom PDF Editor is available at monthly subscription charges of $9 per month for the Business edition and $7.50 per month for the Standard edition. Additionally, users can also purchase lifetime license by paying a one-time fee of $109 for the Standard Edition, and $139 for the business version.
Foxit Phantom PDF Editor is a full-fledged PDF editor tool for editing PDF files. The tool scans the PDF file and converts the document into editable text using the OCR technology, allowing users to edit text and images easily. Additionally, users can also customize the layout of a document. Foxit Phantom PDF editor is a great tool for editing PDF files and well-suited for heavy users as it offers great flexibility.
4. Nitro Pro
Nitro Pro is yet another powerful PDF editor tool that costs a whopping $160. However, users can try out the PDF editing software absolutely free on a 14-day free trial basis. Nitro Pro offers extensive features for PDF editing. Nitro Pro features OCR technology which allows users to scan a document or open any PDF file and edit it quickly. The interface of Nitro Pro has a lot in common with Microsoft Office. Nitro Pro is a great tool for editing PDF files and is designed for a heavy workload.
5. Nuance Power PDF Standard 2.0
Nuance Power PDF Standard is a premium feature-packed PDF editor tool that costs almost $100. It allows users to create and edit PDF documents conveniently with the help of OCR technology. Additionally, users can also capture a web page and export it as a PDF document, which is quite a nifty feature.
Nuance Power PDF also supports some cloud-based services, such as Google Drive, DropBox, and SkyDrive, and allows multi-user cloud collaboration. Nuance Power PDF supports Windows 7 and up, including touch-enabled Windows 10 devices.
6. PDF Architect 4 Standard
PDF Architect is yet another feature-rich PDF editing tool that is available in three flexible pricing plans, which start at $60 for the Standard version. The Pro version costs about $90, while the Pro version including the advanced OCR technology costs about $120. PDF Architect allows users to edit text in PDF documents and create new PDF documents.
PDF Architect also supports conversion from PDF to Word documents and vice versa. The Pro version also supports forms creation with the help of built-in templates and allows users to sign and secure their PDF documents. PDF Architect is yet another excellent choice for PDF enthusiasts who are looking for one of the best PDF editing software.
7. PDFescape
PDFescape is a free web-based PDF editor that saves the hassle of going through a whole installation process and lets the users get started right away. It allows users to upload a PDF document for editing or create a new PDF document. However, as discussed earlier, free PDF editors do not allow easy text editing, as is the case with PDFescape.
Users can erase and add any kind of new content to a PDF document, including new images, text and annotations, and even pages. PDFescape is a go-to PDF editor if you want to edit a document on the go. However, the free version only supports files up to 100 pages long. The Premium upgrade costs $3 per month and allows much larger files.
8. Inkscape
While Inkscape is actually a vector graphics editing software tool similar to the more popular Adobe Illustrator and Corel Draw, it also has the capability to read and edit PDF files. Users can use the vector editing tools to modify a PDF document by erasing and adding new content to the document with the help of the powerful text tool.
Inkscape is a very useful PDF editor that offers a large variety of tools for spicing up and managing your PDF document, packed up in a user-friendly UI. Inkscape is a lightweight and open-source tool that is a free alternative for editing PDF documents.
9. PDF-Xchange Viewer
PDF-Xchange Viewer is a free PDF editor tool for editing PDF files. Users can quickly add new annotations, text, and shapes to the document. However, being a free PDF editing tool, it is a bit tricky to edit existing text in a PDF file. In order to do so, users need to erase the existing text and add new text, much like the other free PDF editors. The edited files can be saved in PDF format quickly.
10. Apache OpenOffice – Draw
Draw by Apache OpenOffice is a decent free tool for editing PDF files. However, users need to install a PDF import plugin for the tool before getting started. After installing the PDF import plugin, users can get started by importing a PDF document.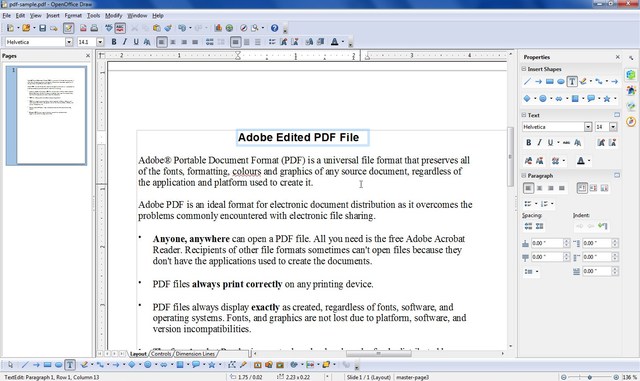 Much like other free PDF editors, OpenOffice Draw also allows adding new text, images, annotations, and shapes quite easily. The free PDF editing tool also allows erasing any text or images in the PDF document. After editing, users can export the document again as a PDF file.
11. AbleWord
AbleWord is a free and simple word processing tool. AbleWord allows users to import the text from a PDF file and edit the text. After editing the text, users can save that text in the form of a PDF document. Additionally, users can also open PDF files and edit most of the text; however, styled text and text with the background can not be modified using this feature. AbleWord is a lightweight application that can prove to be handy in a serious situation.
Also Read: 15 Best PDF Reader for Android to Read PDF on Android Mobile/Tablets
The Pro Review From TechReviewPro
While there are some decent free PDF editors, but they are not a stable solution for editing PDF files. To be truly able to edit PDF files, you need to get yourself a premium PDF editor that supports OCR technology, allowing you to edit text and replace and remove images, effortlessly without messing up the original styling of the document.
Don't Miss: