Communicating the feel of your idea is a must to turn your vision into reality efficiently. The right mood board app can do it for you.
If you are a designer, illustrator, photographer, etc. you might know the importance of organizing your thoughts. There are numerous thoughts coming into your mind, but not all of them can be executed in your project. Here's where collecting them and selecting the best out of them comes into the picture. And here's where mood board apps come into the picture.
I have explored some mood board apps and in this article further on, I have listed the best of them. Do go through them and decide which mood board app suits you the best.
Also Read: Top 5 Latest Photography Trends to Zap Up Your Photography
Benefits of Mood Board App
Before we dive into the list of the best mood board apps, let's discuss some of the major benefits of using the mood board app.
Firstly, a profession that involves creativity implies a lot of ideas, and rightly so. Your mind is acquired by numerous ideas and, it's a must for you to keep them organized. A mood board app can help you collect these ideas, organize them, and if required, even communicate the same.
The mood board app collects all of your ideas in collage form, which implies that they are assured to stay organized, hence, keeping you away from all sorts of messes later on.
Next, communicating with the client is a major task of any project. You can share your ideas, and you both can check out mood board photos before formulating any strategy or finalizing the next step. It helps you both stay informed and hence, the chances of communication gaps subside.
Also Read: Top 7 Best Photo Booth Apps for iPhone and iPad
Top 10 Best Mood Board Apps for Photographers to Create Amazing Mood Boards
So, now what are the best mood apps for you to jot down all your ideas in an organized form? Check them out below.
Canva, a popular graphic design app also offers photographers the flexibility to jot down their photography ideas and use them whenever they want.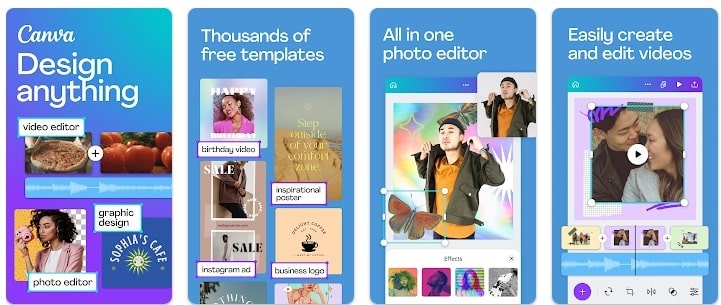 Features of Canva:
a) Canva offers you a number of mood board templates. You can explore various template options and select something that matches your creativity the best.
b) Creating mood boards in Canva is mostly drag-and-drop. You need not make any extra effort to bring your ideas into an organized form here.
c) The mood board app comes with a number of built-in tools. You can effectively use these tools and features to give your creativity a push.
d) There are numerous stock photo options available here. If you are a photographer, you already know the importance of these stock photos, specifically, when you are working on a unique project. You can download these photos, and mood board them to make them a part of your idea.
Pinterest is another popular mood board app for iPhone and Android that provides you with millions of stock photos along with a platform to keep them organized.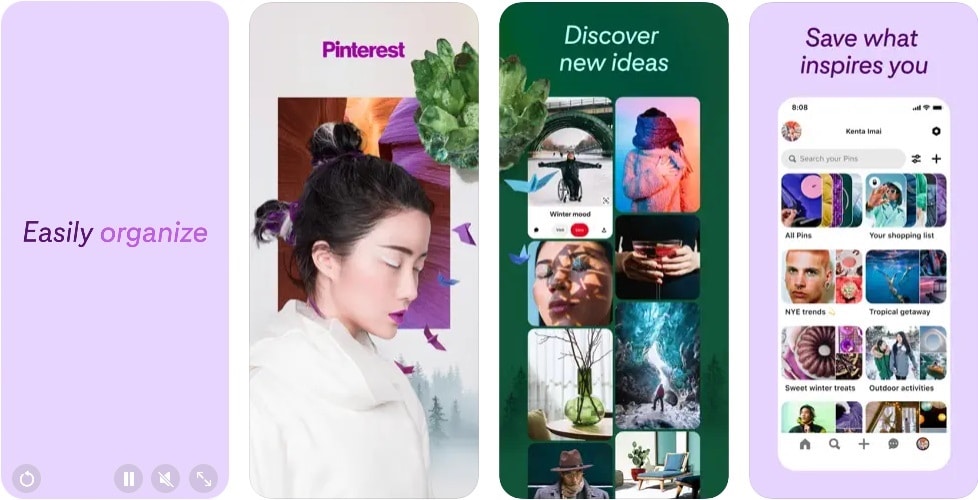 Features of Pinterest:
a) Pinterest can easily be considered the easy-to-use mood board app. No matter if you are a beginner or a pro, you can count on Pinterest to make things easy for you.
b) Pinterest is well-known for pin images. Here, you can find millions of mood boards and images from other creators, and you can actually give a boost to your idea.
c) No matter what your photography niche is, Pinterest has something for everyone. Hence, you won't be disappointed with no options at all.
InVision is another top-rated mood board app that you can count on to create mood boards and organize your ideas. The mood board app promotes collaboration, which lets you work in a team with the utmost efficiency.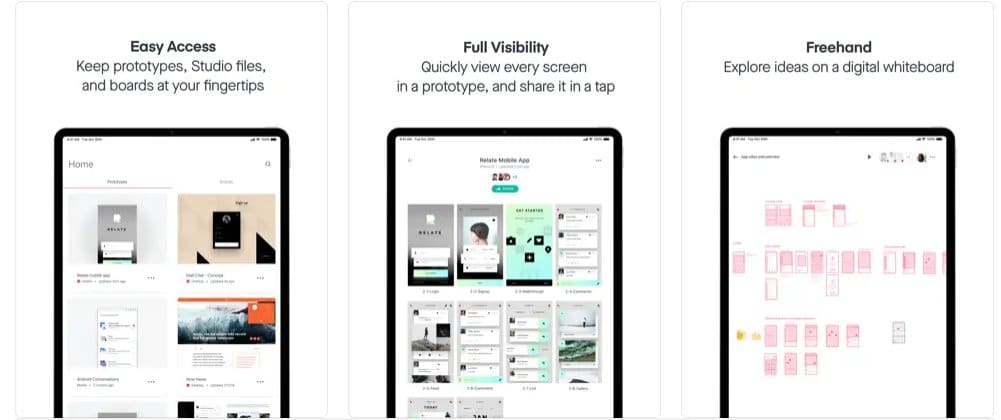 Features of InVision:
a) This mood board app is known to provide a high-user experience, which is one major reason why I have recommended it as one of the best mood board apps here.
b) As mentioned, the mood board creator app supports collaboration, which allows you to share your ideas with your team and let them edit them as they want. Teamwork really gets easy with InVision.
c) Creating mood boards using InVision is largely about drag and drop. You won't be facing any sort of technical complexities with this mood board creator app.
d) InVision provides amazing customer support. In case, you face any technical issues while creating mood boards with this app, you can reach out to the support team, and it will be quick to resolve your issues.
Evernote, widely popular as one of the best note-taking apps, can also be effectively used as a mood board option. Along with adding images, you can even add your notes here. Sometimes, photography does require words, and Evernote allows you to note them down.
Features of Evernote:
a) In case, you are into a big project or collaboration, Evernote is worth trying for creating mood boards. It provides that room where you can manage a huge project with ease.
b) Not only creating mood boards, but Evernote also allows you to write notes with your photos. Hence, it can be a good option if you are looking to explain your ideas to your team.
c) You can connect your Google Calendar with this app. Hence, you can use this app for something like managing schedules, which means multiple applications!
d) Evernote implies an amazing user experience. You can manage your ideas with ease, which, of course, boosts your user experience.
GoDaddy Studio, somewhat similar to Canva, can streamline your mood board creation workflow to a good extent. Along with letting you create mood boards and jot your ideas in an organized way, you can also explore the stock images here and give a push to the number of ideas.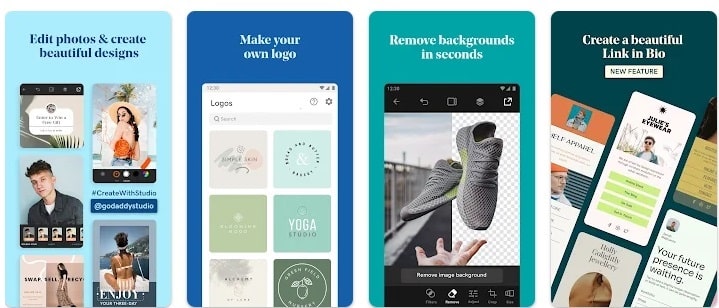 Features of GoDaddy Studio:
a) GoDaddy Studio comes with a huge library of stock images. Hence, if you aren't getting enough ideas for your mood board and project, you can explore new ideas from here.
b) You can create your own collage here. Hence, you can really keep your ideas organized here. A collage is simply a proven way to jot down photography ideas and keep them in an easy-to-extract form.
c) GoDaddy Studio keeps on coming with frequent updates. Hence, you keep on getting advanced and improved features at regular intervals from here.
d) Be it fonts, stickers, images, or anything, you get plenty of options with everything here. You can give a major boost to your mood board for photography ideas by using these options.
Also Read: How to Colorize Black and White Photos? – Convert Black and White to Color Photos
MilaNote is another flexible and top-rated mood board app that is trusted by numerous photographers to jot down their photography ideas. No matter how advanced your requirements are, this mood board creator app can cater to them efficiently.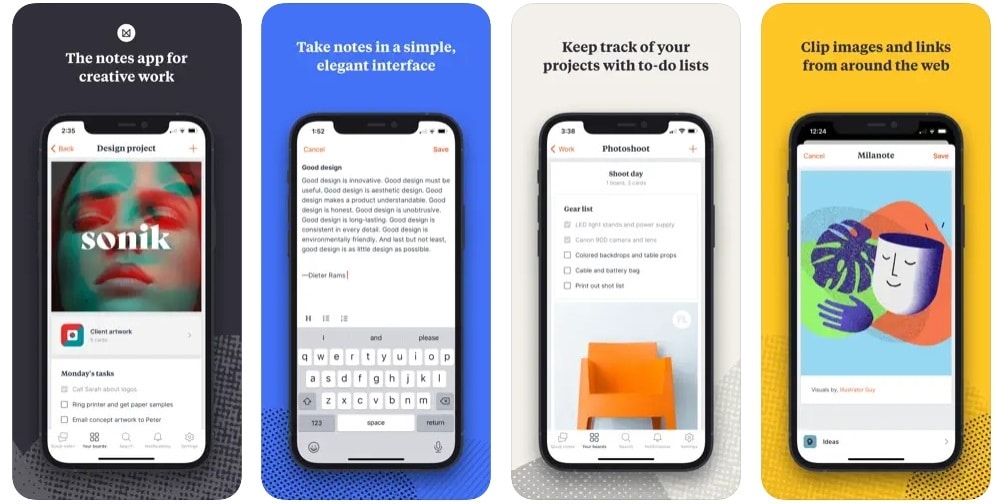 Features of MilaNote:
a) As mentioned, MilaNote comes with a flexible and easy drag-and-drop interface. You need not invest a lot of time or effort to learn to use this app for creating awesome mood boards.
b) The mood board app comes with a number of advanced features and built-in tools that makes it easy for you to manage any sort of complex and huge features with ease.
c) You can even save images and links from here. This is a common yet effective feature that can make things easy for you as a photographer.
d) MilaNote effectively integrates with a lot of functionalities that might make the mood board application effective for you.
As the name says, the Moodboard app for iPhone and iPad is yet another awesome mood board creation app that you can use to create mood boards for photography. Sadly, it's an underrated mood board app, but the amazing features, and functionalities that the Moodboard app come alongside really a great option for photographers.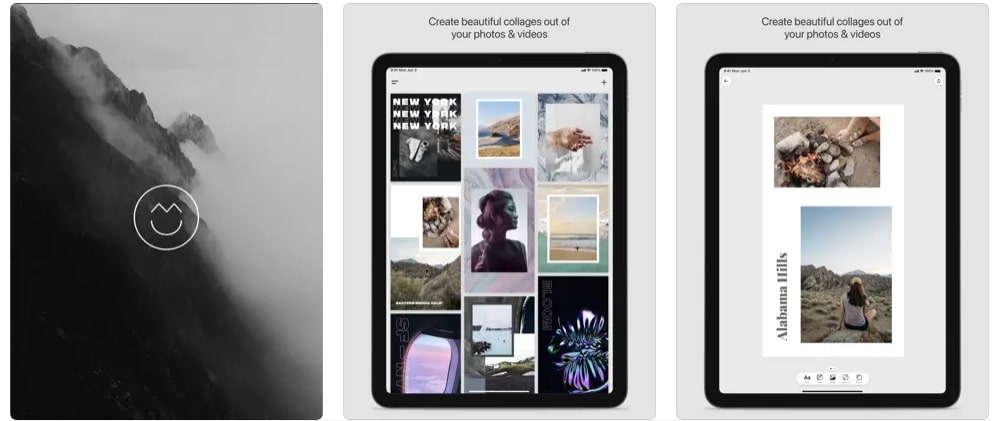 Features of Moodboard app:
a) I loved the elegant and intuitive interface that the Moodboard app comes alongside. The interface makes it easy and actually fun to organize your photography ideas here.
b) Here, you can create your own layouts and play with them the way you want to organize your ideas. The mood board app gives you great flexibility to do so.
c) If photo editing is your need, the Moodboard app provides you with several advanced editing features to do so. Hence, along with organizing your ideas, you can even edit your photos from here.
d) Using the Moodboard app, you can add various styling options to your photos and videos and give your mood board more juice to make them look amazing.
Morpholio Board is another top-notch mood board drawing app that allows you to draw mood boards using various templates.
Features of Morpholio Board:
a) The Morpholio Board app creates an image table for you in an organized form. The table form helps you represent your ideas in the most organized way possible.
b) Morpholio Board comes with a simple drag-and-drop interface. Hence, you can simply drag and drop and create mood boards here. No technical complexities at all.
c) Be it Quick Text, Color Seed, Markup Tools, or anything, the mood board creation app offers you plenty of advanced features that you can effectively use to make your photos look amazing.
d) You can leave comments for your team to get insights into your photography ideas. Hence, the mood board maker app makes teamwork easy for you.
Mural is a cool mood board app for Android and iOS, as well as, for Windows and macOS. You can use the Mural app to create mood boards and collaborate with your team. It is another visual collaboration app that lets you and your creative mates work together, explore each other's ideas and creativity, and give new dimensions to them.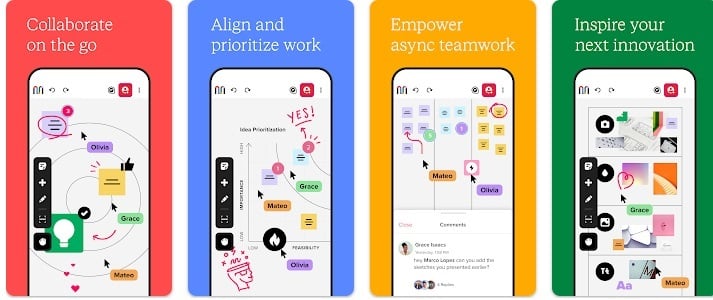 Features of Mural:
a) Mural offers you a range of options to create mood boards the way you want. These options really make a number of things quite seamless for you.
b) Mural is quite a powerful tool. Be it efficiency, features, or anything, the mood board app by no means lag anywhere. Hence, the user experience with this tool is quite high.
c) Even if you are a beginner, you won't be facing any issues while mood boarding on this app. Just a simple drag and drop and you are all good to go.
As the name implies, Vision Board is all about organizing your vision and thoughts and sharing the same with your team. The Vision Board app allows you to adjust your board ideas in plenty of ways.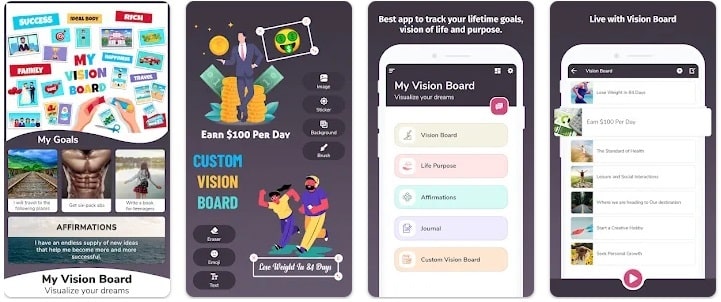 Features of the Vision Board app:
a) You can secure your content with a unique PIN. The mood board app allows you to create a PIN. Hence, if confidentiality is your concern, the Vision Board app won't let you down here.
b) You can adjust the mood boards with different color options. The Vision Board app provides you the flexibility to adjust the mood boards and give them a shape of perfection.
c) The mood board creator app comes with quite an intuitive and simple-to-use interface. Hence, you will enjoy creating mood boards on this app, which is definitely a great thing.
d) Features like goal tracking, checking/unchecking the tasks, marking ideas or content important, etc. help you and your team to keep track of the goals and to highlight ideas that are quite important.
Also Read: 11 Best Photoshop Apps for iPhone to Edit Photos on iPhone and iPad
Frequently Asked Questions About Mood Board Apps:
How do I create amazing mood boards?
If you want to create amazing mood boards, make sure that your mood board visually summarizes your photography ideas clearly. Also, try to explain your photography ideas with the right text whenever required. Be crisp and be clear with whatever you include in your mood board. Lastly, research well, and select the right mood board app to make sure that you don't create a mess while creating the mood board.
Are mood boards really effective?
Yes, mood boards are really effective. What mood boards do is that they keep you and your team informed and accountable for photography ideas you guys have as a team. Also, you can communicate with your clients, show them the mood board, and let the client decide the best. Ultimately, it really makes a lot of things easy for you, specifically, when you are working on a huge project.
Can a mood board have text?
Of course, a good board can have text. If you desire to give an explanation of your ideas to your team or client, you can do so by including a short and crisp text.
What things does a right mood board incorporates?
A right mood board can have photographs, designs, illustrations, textures, descriptive content, and much more. Ultimately, it can include anything that explains your project ideas to your team and client. However, whatever you use here has to be crisp and easy to understand.
Can I use copyrighted images on a mood board?
Yes, you can use it if the mood board has to remain for your personal use. But, in case, you use the image anywhere on your project, you need to take permission from the source. Remember, a mood board is only about yourself and your team. Hence, before you drag a copyrighted image on your mood board, make sure to keep this permission aspect in your mind. Even better, a safer option is, don't use copyrighted images as you can always find stock images to use in your mood boards.
Also Read: Top 10 Best Family Calendar Apps to Create Family Calendar
The Pro Review from TechReviewPro
I hope that I have made the mood board app selection easy for you. Yes, there are a number of options available, but being clear with your requirements, researching well, and being a bit patient will make it easy for you to select the right mood board creator option and make an amazing mood board.
A mood board is one of the most effective ways to streamline your project flow, share ideas, and keep track of daily goals. That said, spending some time to research and select the best mood board app is absolutely worth it.
So, what mood board app have you decided to go with to streamline your project flow? I am eager to know your answers. Do comment down and let me know your choice!
Related Resources: