Homescapes is a free and fun match-3 slash simulation phone game with an intriguing storyline. The protagonist is Austin, who has just moved back to his parents' house only to find out their plan of selling their family mansion. He, then, tries to convince his parents by promising them that he'd renovate their ancestral house (with the help of the player).
As you move through different levels in the game, you get to see different facets of Austin's earlier life. The unique combination of match 3 mechanics and an intriguing plot is what attracts players towards this game. No wonder it's one of the most downloaded games on Android and iOS platforms.
If you want to play more interesting games like Homescapes, continue reading this article. Here we'll discuss some simulation games like Homescapes for Android and iOS.
8 Best Games like Homescapes You Must Play
So if you are a frequent player of Homescapes and want some change, or simply put, if you are looking for some Homescapes alternatives games, then you may find here a list of 8 best games like Homescapes:
1. Manor Café
Manor Café is a match-3 puzzle game very similar to Homescapes in its plot. You buy a rundown restaurant mansion and decide to bring it back into its full glory with the restaurant's manager Meg and Bruno, the head chef.
As you move through the game, you unlock new recipes and meet new characters. You get to learn delicious recipes and decorate your café with exquisite décor items. Renovate the bar, the garden, and the dining hall by swapping and matching items. Unlimited powerful boosters, interesting characters, and super power-ups keep you entertained throughout the game.
Each episode in the game presents you with an outdated and rundown part of the café mansion that you need to renovate. You can buy items with the coins and stars you earn. With the help of power boosters, you can clear items that seem difficult to break.
Traditional match-3 techniques merged with café makeover and unique storyline make this game one of the best puzzle and makeover games. This is your chance to design your very own café with an exotic interior. Go and grab it! It's one of the most fun games like Homescapes.
Platforms available: Android, iOS
2. Town Story
Rita, the protagonist of this game, goes to her family mansion to recollect her childhood memories. She has lost all her memory. But when she went there, she realized that it was no longer the beautiful mansion she grew up in. So she takes up the challenge of renovating her ancestral house while regaining her lost memory.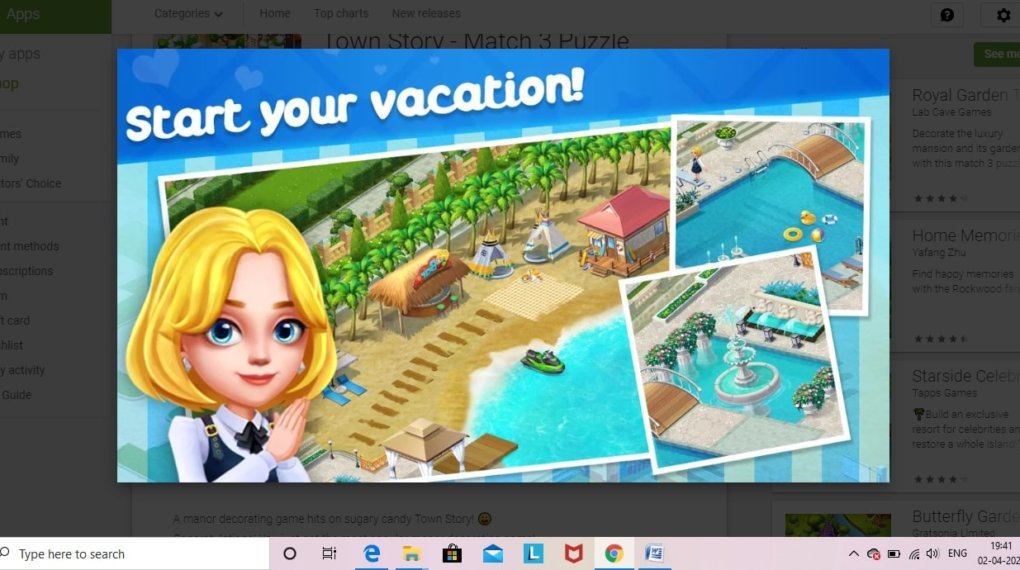 You have to help Rita with cleaning the house, reading the letters she comes across while cleaning, gardening, and many such tasks. The mansion is really big, and you'll get to explore all areas as you progress in the game.
If you like chocolates and candies, you'll absolutely love this game. You're supposed to match three or more candies to create powerful candies. But, you have to beware of the thorns and chocolates that could appear on the lawn. You can earn stars by completing levels that you can use to complete different tasks and missions. You have to complete the tasks before you run out of moves.
We think it's a really fun and intriguing game with powerful visuals and explosive effects. You can also add your Facebook account and invite your Facebook friends to play with you. You can also play it offline. Although it's free, you can purchase things like extra moves in the game.
Platforms available: Android, iOS
3. Animal Drop
Want to go on a magical safari? Play Animal Drop, a game that takes you through majestic blue oceans, snowy white Arctic, and the beautiful African Savannah. It's a cool match-3 adventure game, one of its kind.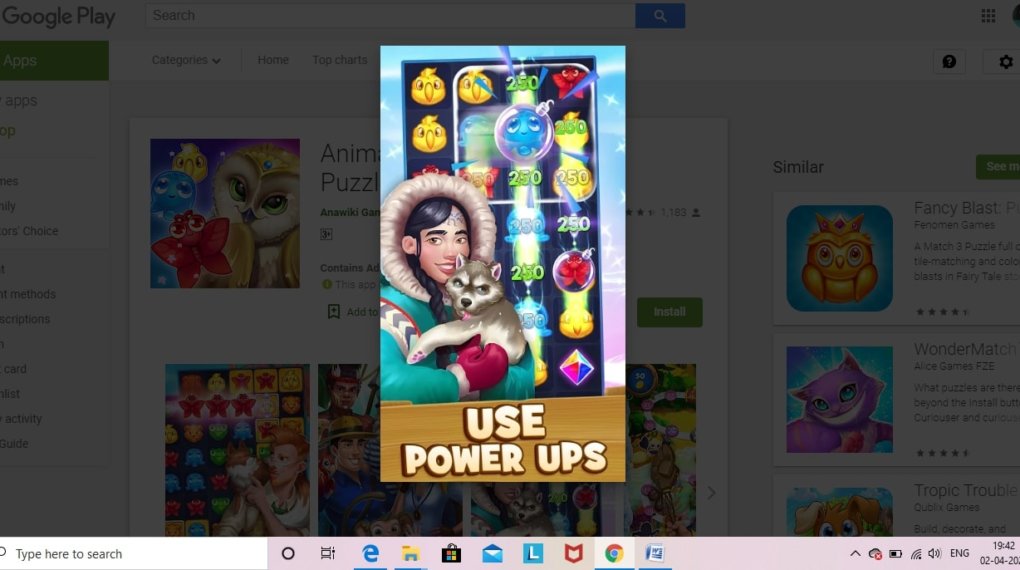 What you need to do is, swap and blast your way through more than 460 entertaining levels. Take beautiful pictures for memory. Be careful, though. Don't let the mighty tigers snatch your camera. Beautiful parakeets, cute sloths, along with 50 other animals, will make you love every second of this game.
It sure is more fun than a trip to the zoo on a hot day. Power-ups will help you reach super high scores. Don't forget to take amazing shots throughout the game; those can help you win power-ups, extra lives and so much more. Wonder how? You can submit your best shots to a wildlife magazine in this game. If your photos get featured, you win cash, simple.
There are not many ads as compared to other free games like Homescapes, which is a plus. The graphics, sound effects, and rewards in the game are beyond amazing. It's one of the best games like Homescapes.
Platforms available: Android, iOS
4. Tropicats
Tropicats is a cute and adventurous matching game where you build and design a tropical island for cats. Help Tropicats by re-building their home through puzzle games and quests. Learn facts and unravel mysterious about the Great Totem.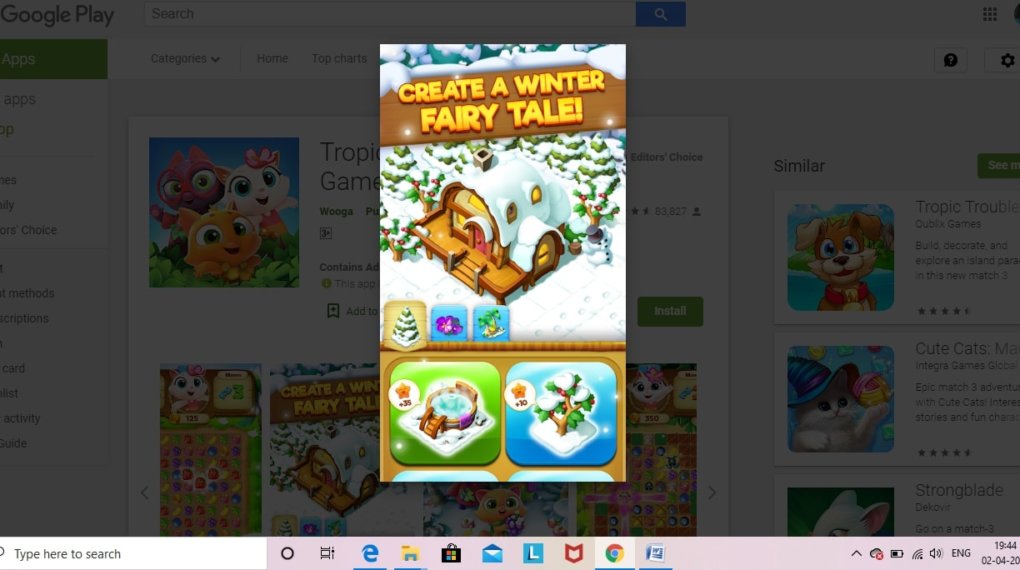 Are you worried such an addictive game will put your social life at risk? Worry not; you'll get to meet lots of people in this game. You can play tournaments with players worldwide, and the prizes will simply leave you wanting for more.
With your puzzle-solving skills, you can help Olivia, the gardener among the Tropicats cat family. Match three in a row to help your assistant Elsie and her brother Kip rebuild their homeland. The fruity puzzle games will just brighten your mood.
It's a free game, but there are in-app purchases. You can purchase virtual items to ease the difficulty level of your game while also getting to decorate the island with exotic-looking buildings.
Platforms available: Android, iOS
5. Matchington Mansion
When you talk about games like Homescapes, you simply cannot skip Matchington Mansion. The game is all about protecting your mansion from your mischievous cousin. And how do you do that? By matching candies! Match candies to renovate your most beloved mansion.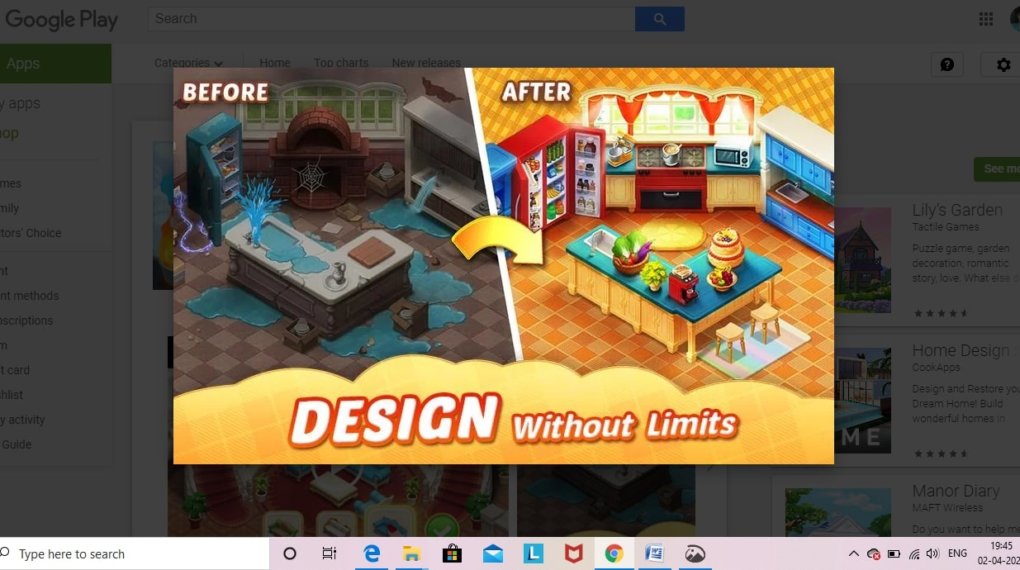 If you run out of ideas, you can peek into your neighbors' houses to check out their interiors. The game is full of adventures, from discovering secrets among dusty furniture to meeting people with quirky personalities.
By putting together all the hidden objects, you'll learn many secrets about your mansion. The rewards will motivate you to play more smartly. Everyone you meet in the game has an interesting story to tell – don't miss it!
Incredible boosters and power-ups will make the game more enjoyable. Although they are free, you can even purchase them if you want special combos that you wouldn't be able to get otherwise.
So, are you ready to play this adventurous game with your friend Tiffany and your cute pet? Matchington Mansion is a pretty fun game with more than 50 million downloads on Android and 4.5 stars rating on Google Play Store (at the time of writing this).
Platforms available: Android, iOS
6. Wonder Chef
Wonder Chef is a match-3 puzzle game, just like Homescapes. If you're a foodie, you will be left mesmerized by the graphics of this game. It's all about food! It's a very easy game as compared to others we've mentioned on the list. This simple, light-hearted game will absolutely light up your mood.
Just match three or more identical elements in the game to score points. You get a limited number of moves, so try to achieve the goals before you run out of moves. After you complete the tasks, you get amazing rewards. To get "yummy" and "spicy" boosters, you need to complete levels without losing any lives.
You can also choose to invite your friends to play the game with you via Facebook. See who, among your friends, is the best at collecting fruits, carving them, dealing with spilled yogurt, and juggling with multiple packs of milk.
What more is that you can even form teams and compete with other teams in the game. If you're willing to put your money in a virtual game, you can also unlock premium power boosters. Play daily to win bonuses. As of now, there are hundreds of levels in the game. And you get new levels every two weeks.
Platforms available: Android, iOS
7. Little Odd Galaxy
The graphics of this game are very unique, with cute aliens and spaceships. There are ray guns, bombs, and rockets in the game that make the game look very fun and different. It's a match-3 game, so you need to match the elements to reclaim the stolen carrot. Match the items to win prizes and power-ups.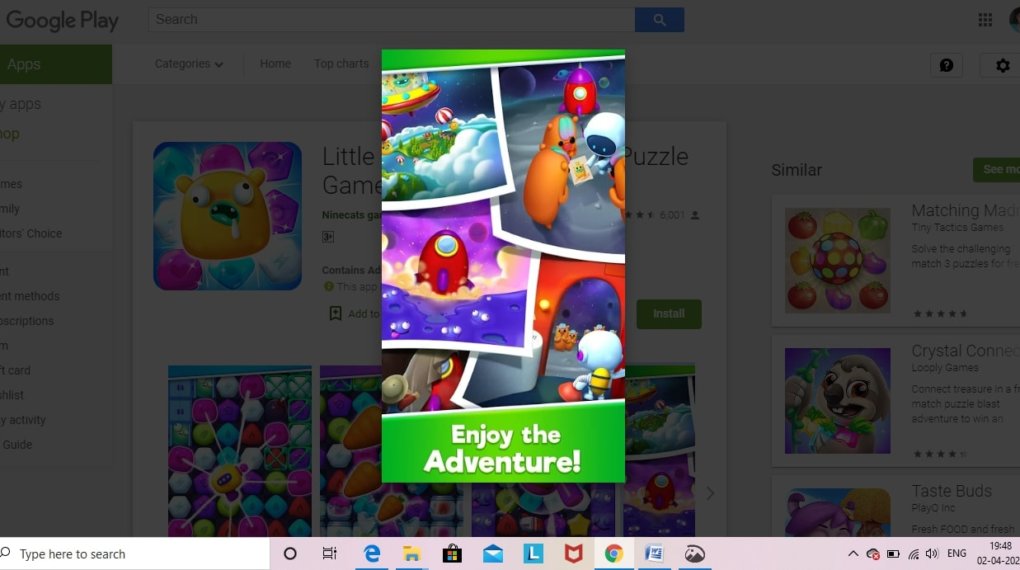 As you begin each level, you're given a list of goals that you need to accomplish. You'll have to match three or more elements in a row to break them. If you match four, you get a rocket. And by matching five, you get ray guns. Match five in the shape of T or L to make a bomb! When you combine two or more special items like the above, you create special effects that will help you win the level.
Solve these puzzles and fight cute thieves until you manage to reclaim your stolen carrots!
Platforms available: Android, iOS
8. Mystery Lane
If you're looking for games like Homescapes that let you immerse yourself in mystical stories and act as a detective? Then you should definitely play Mystery Lane!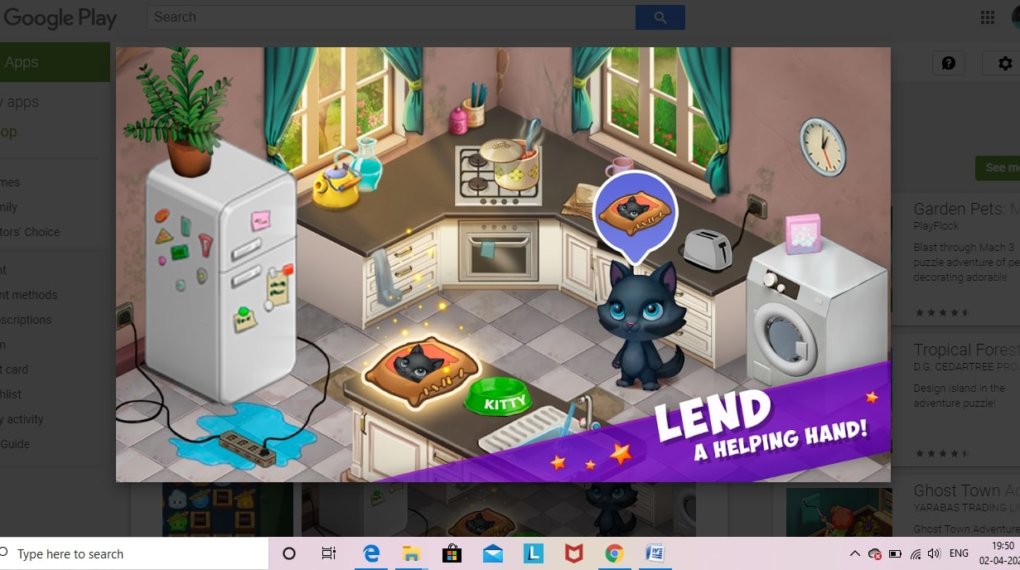 In this game, you're going to accompany Anna, a witch, who goes to houses to solve mysteries. While solving mysteries, you meet ghost residents of those houses and learn their stories. Complete match 3 levels to help Anna find her lost brother.
Search for her lost brother leads Anna to this erring and mysterious town. The residents of this town act really weird as they've fallen for some magical spells. You need to help Anna solve the mysteries and reunite with her brother!
Every house you visit in the town has a new mystery for you to solve. Interact with Anna to discuss tactics. You can even invite your Facebook friends. Brew potions for bonuses. There are hundreds of thrilling levels in the game you can play to keep your occupied.
We highly recommend this game for a spooky, match-3 puzzle solving experience!
Platforms available: Android, iOS
Conclusion
These were the 8 best games like Homescapes that we've come across on the internet, so far! All of these Homescapes' alternative games are super fun. You can choose a game for yourself based on the plot, graphics, and difficulty level.
Homescapes is an exceptional game, and although these games aren't exactly like Homescapes, they are still pretty similar to Homescapes. If there are any other games that you think are quite similar to Homescapes, do let us know! Also, let us know how you find the games we mentioned on the list and your favorite among them.
Also Read: