Want to enhance the working efficiency of your sales team? If so, you'll want to know about the best cold email software. With the aid of these applications, you may effortlessly connect with potential customers and colleagues while remaining organized.
Sales teams can use cold emailing software to improve sales productivity and track results. These email outreach tools are able to automate outreach tasks, such as identifying new leads, sending personalized emails, and tracking responses. Some tools can even integrate with other sales tools to streamline the entire sales process. It makes it easier for consumers to overcome sales objections, which is one of the reasons why cold emailing is one of the most effective techniques for obtaining leads.
If you're looking for a cold email software tool that can help you create and send cold emails, then consider using one of these 10 options.
Also Read: Top 10 Best Email Finder Tools for Finding Email Addresses
Top 10 Best Cold Email Software Tools to Automate Email Outreach
The process of choosing the best cold email marketing software can be time and effort-consuming. I have compiled a list of the best ten cold email marketing software programs to automate email outreach to assist you in making your decision.
1. HubSpot
HubSpot provides a customer relationship management (CRM) platform that includes a broad range of options for marketing, sales, and providing customer care. Individuals and companies alike can use email marketing tools inside the Marketing Hub, which enable them to develop cold email campaigns, send emails in bulk, and evaluate the effectiveness of their efforts.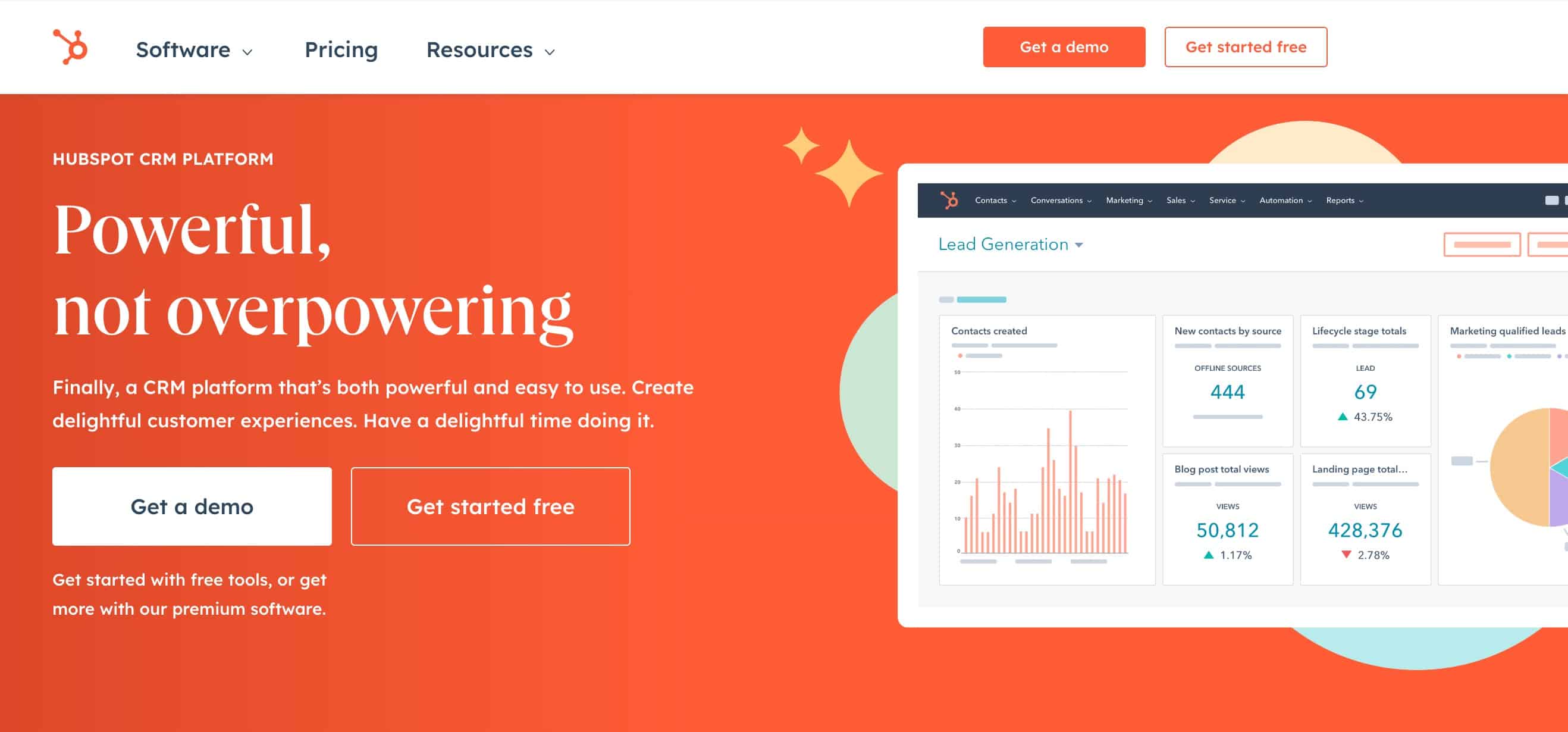 If you own a startup, you are eligible for a free trial of the Marketing Hub. The free plan gives you access to a variety of capabilities, including those for live chat, content management, Facebook advertisements, and email marketing tools.
Features of HubSpot:
a) With their beautiful cold email templates, you can easily create campaigns without the need for any IT specialist or designers. 
b) With the assistance of HubSpot tool software, you can also send personalized emails which boost your open & click-through rate.
c) Their A/B tests help you find which email open line provides you best results.
2. Snov.io
Snov.io is another cold email software program that helps you shorten the time it takes to locate and engage with your target leads. You may search for email addresses using the platform in several different ways, including searching by business, domain, or social media profile.
Your contact list will always be clean if you use this function, which will lower your bounce rates and increase the likelihood that your emails will be successfully sent.
Features of Snov.io:
a) Using this cold email outreach software tool, you will be able to construct drip campaigns and schedule emails, follow-ups, and meetings. 
b) You can also determine whether email addresses are functional by using the email verifier tool, which subsequently enables you to compile contact lists that include active email addresses.
 3. Klenty
Klenty is a sales communication and interaction solution that integrates with customer relationships management (CRM) systems such as HubSpot, Pipedrive, and Zoho. This implies that you can quickly import data from your customer relationship management system, such as a list of prospects.
Klenty provides users with three different plan choices, each of which may be purchased yearly, quarterly, or monthly. The Startup plan is available to recently formed businesses and small teams. The Growth Plan and Enterprise plan are available to larger teams and corporations.
Klenty gives you a free trial period of 14 days, during which you may test out the capabilities of their program. After that point, you can either switch to one of their premium plans or terminate your subscription altogether if you don't wish to continue.
Features of Klenty:
a) You can integrate Klenty with Slack, which enables you to get notifications whenever a prospect clicks on, opens, or reacts to an email, as well as share prospecting activities and changes with other team members.
b) Easily check all the reports and statistics.
c) This cold email software tool provides you with a dashboard through which you can easily manage all your campaigns.
 4. Lemlist
Lemlist is software for cold email marketing that enables you to forge more meaningful relationships with your leads using tailored messages, SMS, videos, and landing sites. You may interact with the clients you are targeting more personally by sending them communications suited to their needs, which can help you win their attention and earn their confidence.
Lemlist has an automatic follow-up capability, similar to what you'd find in other cold email marketing software tools. You can also establish individual triggers, which tell the program to carry out a given action depending on the presence of a certain circumstance.
For instance, if a receiver reads an email, the cold email software program will refrain from sending a follow-up email since the recipient has already shown interest in the message.
Features of Lemlist:
a) Easily manage templates
b) Provide an A/B testing facility to check whether your email provides the results you want or not.
 5. Mailshake
Mailshake is another cold email software that provides several email outreach automation capabilities, allowing you to save a significant amount of time. These services range from lead prospecting to lead activity tracking.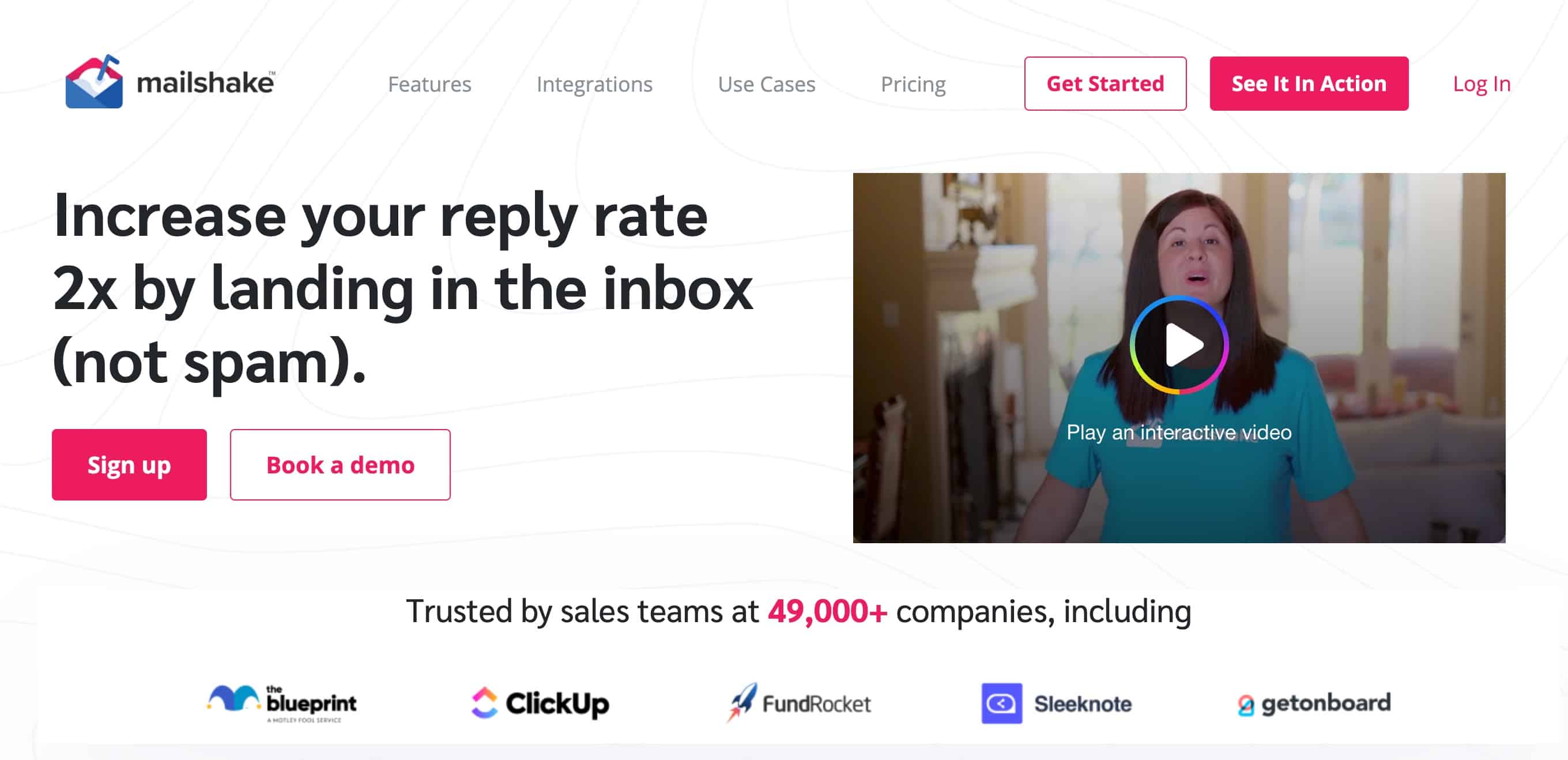 In addition, Mailshake gives you the ability to contact prospects via cold phoning and social media. With the help of this function, you won't have to worry about sending a recipient many copies of the same cold email.
Features of Mailshake:
a) Through the Lead Catcher function of this cold email software tool, you will be able to monitor lead behavior, such as open rates, click rates, and bounce rates for each campaign. 
b) With their A/B testing options, you can enhance your overall performance through follow-ups, campaigns, and emails.
c) Mailshake sales engagement options provide businesses with new ways to generate leads.
d) Their schedule options can help you to schedule all your cold emails or campaigns, which further saves you time.
e) Easily add any link or text.
 6. MailRush.io
Mailrush.io is another awesome cold email software tool that assists businesses that cater to other businesses in automating their cold email marketing campaign. It comes with an email warming function, which prevents cold emails from being sorted into the spam folder of the people you are trying to reach.
Even if the platform comes with its email service provider, you may construct your mailing list quickly and simply by using the drag-and-drop capability of Mailrush.io.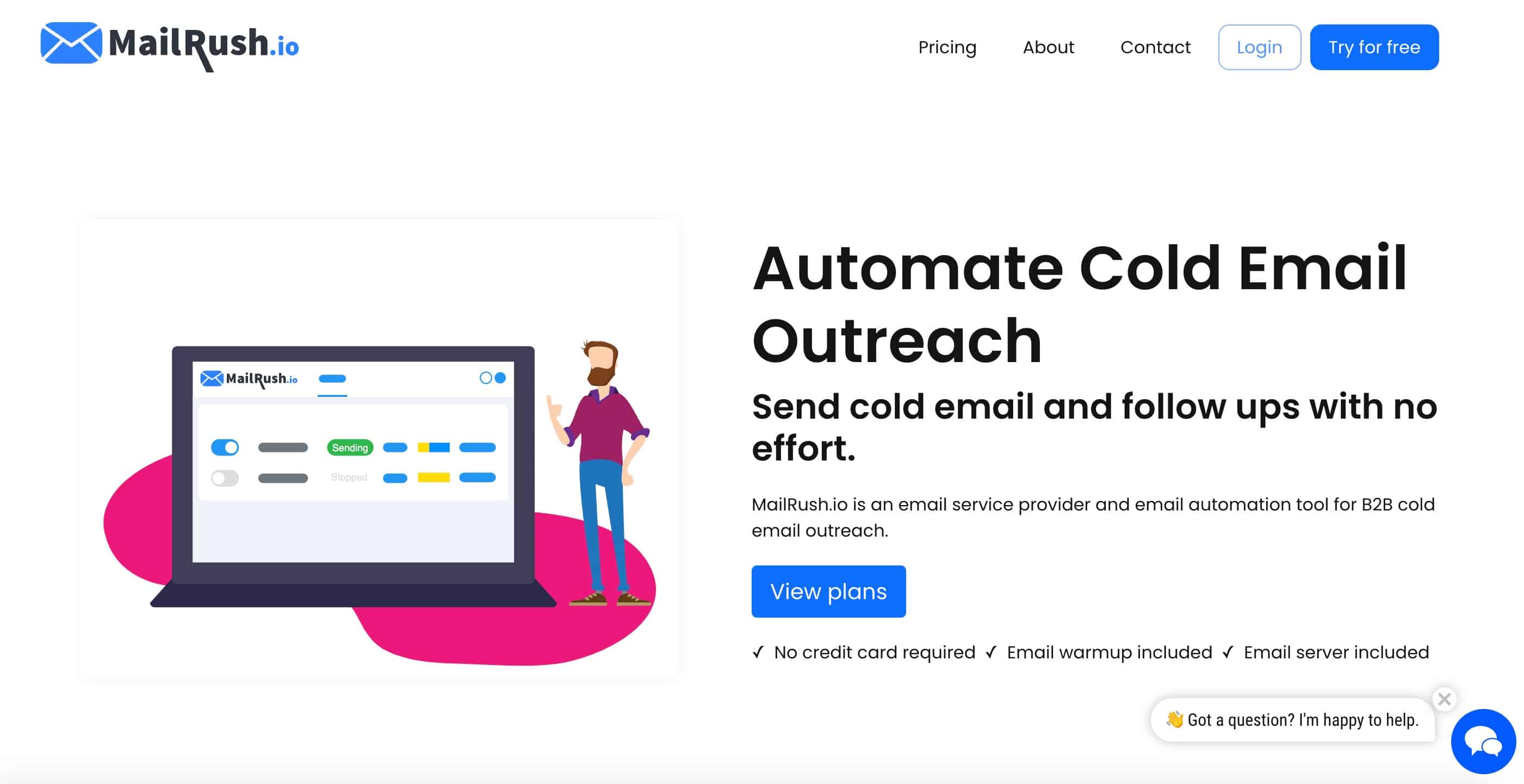 Mailrush.io, like many other platforms for cold email marketing, enables you to automatically send follow-up emails depending on particular circumstances or occurrences, as with other platforms.
You can also evaluate the success of your campaigns by tracking indicators like the number of times an email is opened and the number of responses it receives.
Features of MailRush:
a) With this cold email software tool, you can automate all your emails campaign.
b) Their SPINTAX tool helps you to spin any content.
c) Highly customizable email templates.
d) Real-time integration
e) This cold email outreach software tool provides full protection to the sender's reputation.
 7. Overloop
This cold email software tool has the primary purpose to assist sales and marketing campaigns in mining emails, determining whether emails are authentic, and building email lists for drip campaigns.
Not only can you use the platform to generate prospect lists for various campaigns, but you can also generate exclusion lists, which will prohibit emails from being sent to the accounts of recognized contacts.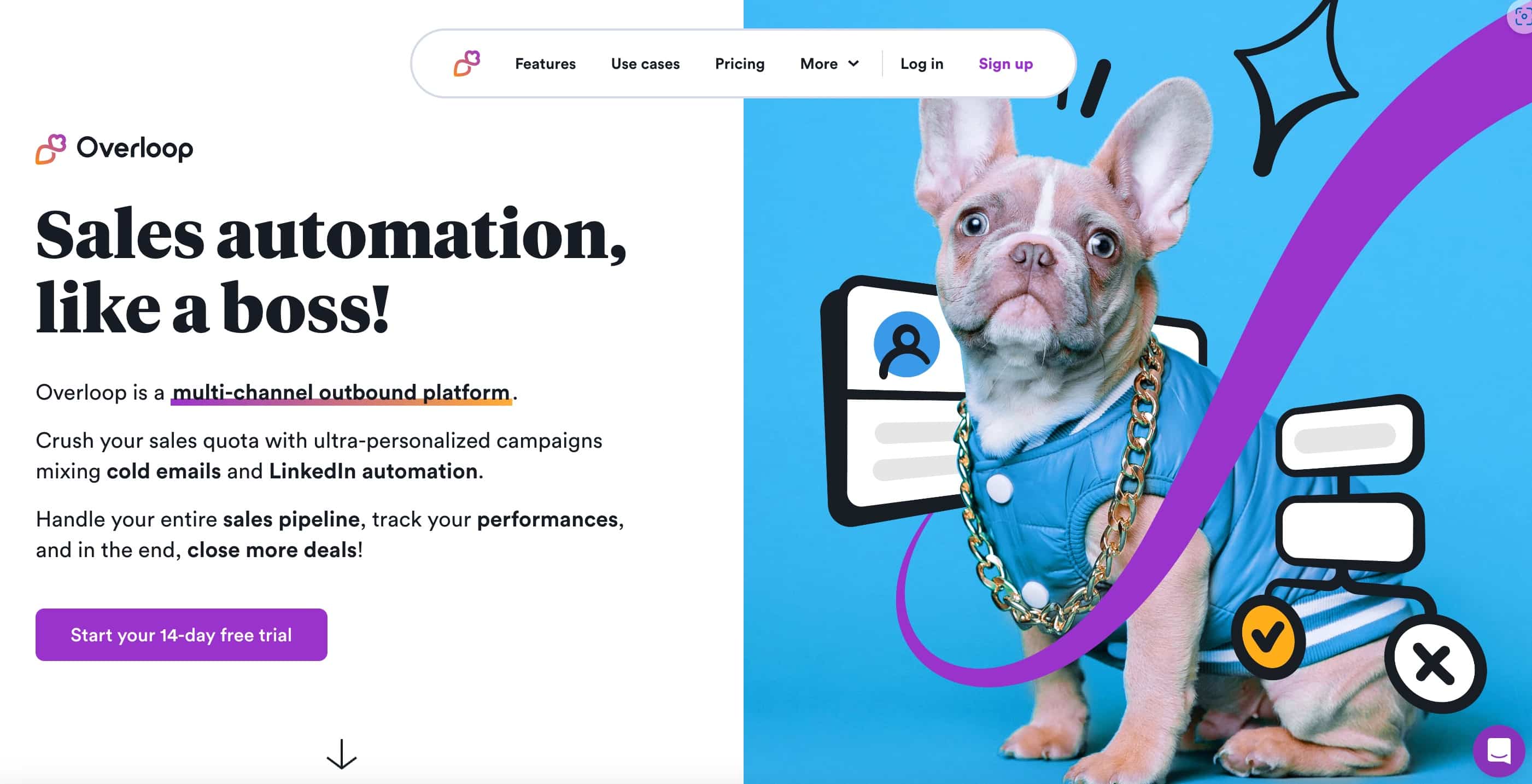 You also have access to monitoring and reporting metrics, enabling you to see which recipients clicked on, responded to, or didn't read your email.
Features of Overloop:
a) With the help of Overloop, you can easily create multi-channel campaigns.
b) You can also find any missing email addresses or manage all your contact lists for cold email campaigns.
c) Overloop provides you so many email templates through which you can improve your reach and engagement.
d) Provides you with options to monitor and track all your campaigns.
 8. QuickMail.io
QuickMail.io is a cold email software service that is hosted in the cloud and is meant to automate email marketing for corporate teams and organizations.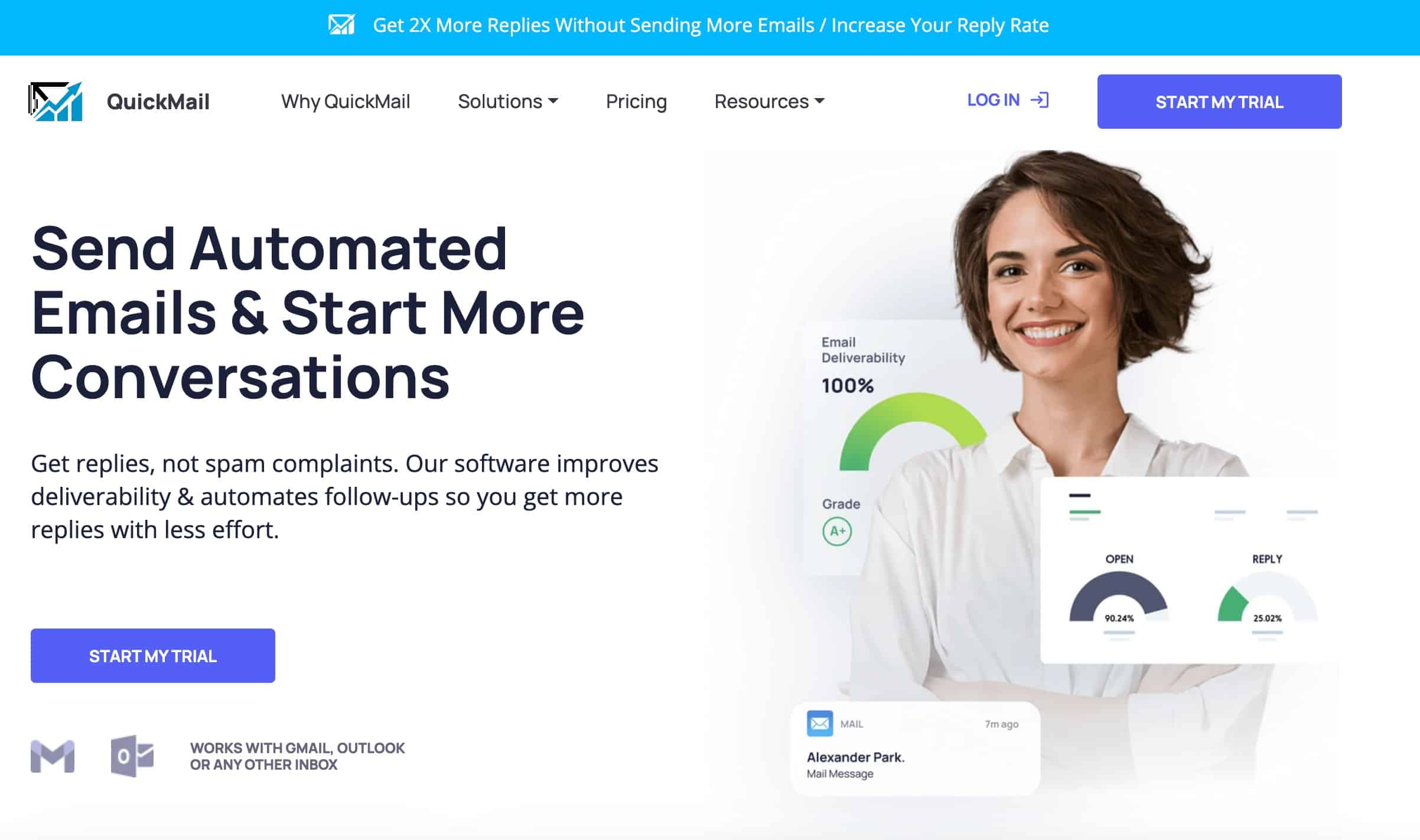 You and your team members can manage email campaigns together, monitor and see developments on a dashboard, and communicate campaign-related information with one another if you are working with a team.
Features of QuickMail:
a) It is equipped with the fundamental characteristics of cold email marketing software, such as the capacity to upload prospect lists, the transmission of automatic follow-ups, and the modification of email templates.
b) Real-time alerts and change history monitoring are elements of QuickMail's reporting capabilities.
c) If you wish to grow a campaign on QuickMail, rather than replicating the whole campaign, you may send campaigns from many inboxes at the same time. This is something that sets QuickMail apart from other cold email software platforms. Because of this functionality, you can reduce the time spent designing and conducting campaigns.
 9. Reply.io
Reply.io is the best cold email software, or you can say a cold email outreach platform that provides sales automation for outbound and inbound customer interactions. You can also communicate with your prospects via additional channels, such as the phone, messenger, and social media when you use the Reply platform.
When you link your Gmail account, sync your Google calendar, and define the times and days you're available, you'll be able to arrange meetings straight from the platform.
Working together with numerous teams on different campaigns is also a useful option. You can filter the activities that are carried out by each team, track each team's progress, send follow-ups, and assess the campaign's success.
Features of Reply.io:
a) With the help of Reply.io, you can automate various operations inside the platform, including searching for emails, categorizing emails, validating emails and phone numbers, and arranging follow-up appointments.
b) Reply.io has an in-built email assistant that can generate new cold emails, update current emails, and verify the content of emails.
 10. SmartReach.io
The email outreach software known as SmartReach.io enables recruiters, marketers, and sales teams to automate their email campaigns so that they can get in touch with their prospects more quickly. This increases both productivity and the reduction of operating expenses.
The cold email software tool validates emails and looks to see whether the recipient's email address is currently being used, which might assist you in ensuring that you are compiling a useful list of prospects.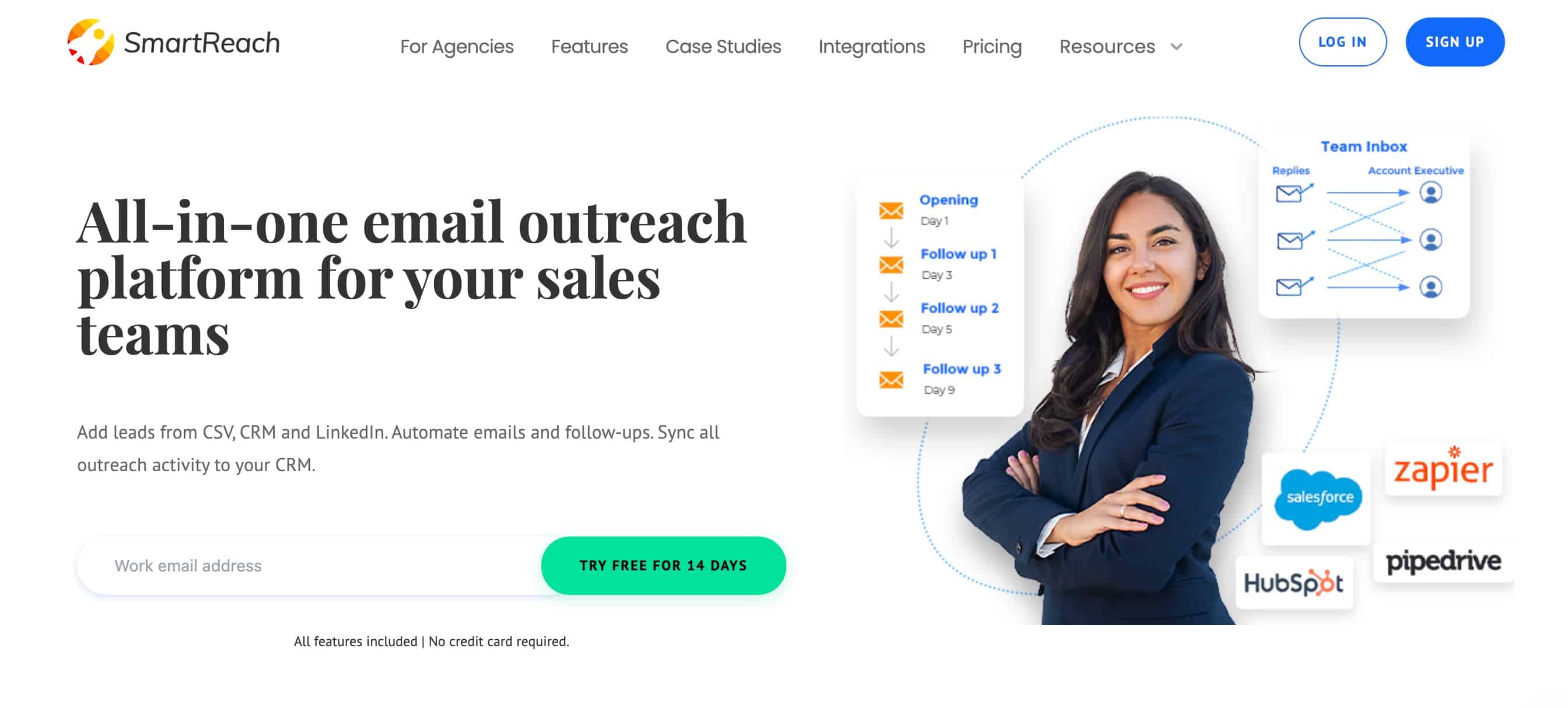 Meanwhile, the email outreach software tool also enables you to raise the number of emails you send gradually, known as the email warm-up feature.
You may also personalize your messages to correspond with the characteristics of the people you are trying to reach by using SmartReach.io's merge tags, which allow you to include dynamic material in your emails.
Features of SmartReach:
a) You may also do spam checks using SmartReach.io, which will assist you in ensuring that your cold emails will not end up in the spam folders of your receivers.
b) The cold email outreach software tool also has A/B testing capabilities for monitoring the effectiveness of your ads.
c) With the help of this tool, you can easily create & manage all your campaigns.
Also Read: Top 10 Best ZoomInfo Alternatives Sites Like ZoomInfo to Find Business Email Address
Frequently Asked Questions About Best Cold Email Software Tools:
What Are The Benefits of Using Cold Email Software Tools?
There are several benefits of using cold email software tools, the benefits include but are not limited to, ease of use, helping you reach your target audience, affordability, and flexibility enough to use to reach a variety of people.
How Do I Use Cold Email Software Tools?
To use cold email software tools, first, you need to create a profile. This profile will allow you to track your progress and track the results of your emails. After creating a profile, you need to create an email template for all your cold email campaigns. This template will contain the information you need to send your emails, including your target audience, your message, and your opening line. Finally, you need to fill in the details of your email, including your target audience, your message, and your opening line.
Why is Cold Emailing Software Tool So Powerful in Cold Emailing?
Cold emailing software is so powerful in cold emailing. The reason for that is: Cold emailing allows you to build trustworthy relationships quickly and easily, and with the right cold email software tool, you can easily check the performance of your cold email campaigns.
Also Read: 7 Cool Reverse Email Lookup Tricks to Know Whose Email is This
The Pro Review from TechReviewPro
If you want to increase brand recognition, cold email marketing is a powerful tool. You need an automated solution like one of the cold email software that will assist you in delivering your message to your target audience in a timely and effective manner in order to ensure that your cold email marketing campaign is a successful endeavor.
So, with which cold email marketing software you are going to go for your cold email outreach campaign? Do you have any specific doubts or queries regarding these best cold email outreach software solutions? Let me know in the comments below, I'll try my best to help.
Related Resources: