As you might be aware, almost all the latest movies and TV shows are being released in 4K Ultra HD resolution, nowadays. The 4K resolution offers a much sharper picture quality. Containing 4 times as much pixels as a Full HD 1080p display, 4K resolution offers unmatchable picture clarity and crispness, – especially at a close distance. This is the reason why 4K TVs and monitors are all the rage these days. Although 4K TVs can play 4K videos pretty easily, playing 4K videos on your PC can be a bit tricky without any of the dedicated best 4K video players for PC.
In addition to a monitor that supports 4K resolution, your PC needs some decent raw processing power to process such high-quality videos. For this reason, a decent next-gen processor paired with at least a mid-end GPU is imperative to offer seamless 4K video playback. You should review your GPU specifications from the vendor's website, to find out if your GPU supports 4K video playback. You might experience choppy playback if your PC doesn't have sufficient processing power.
Also Read: Top 8 Best GPU and CPU Overclocking Software Tools
After you have taken care of your hardware, the next thing to look for is a good video player that is capable of playing 4K videos smoothly. Luckily, there are some 4K video players for PC that offer 4K video playback support on PC.
Top 5 Best 4K Video Players to Play 4K Videos for Free
Here, we will be discussing some of the best video players that offer 4K video playback support. These players offer smooth and seamless 4K video playback support as long as your hardware can handle 4K video playback. Let's take a look at our list of top 5 best 4K video players to play 4K videos for free.
1. VLC Media Player
VLC Media Player is the most popular free and open-source video player that can handle almost all kinds of video formats. It offers support for 4K video playback, starting from version 2.1 that was released back in 2013. Since then, some bug fixes and improvements have been introduced to improve 4K video playback on VLC.
In addition to 4K video playback, VLC Media Player offers integrated support for a number of codecs making it possible to play almost all video files without any third-party codecs. VLC Media Player offers a simple and clean GUI that is easy to use. However, users can install skins to spice up the interface and even design their own skins.
In some cases, you might experience choppy playback for 4K videos while using VLC Player. In that case, you should try changing the Video Output settings to OpenGL. If you are wondering how to do so, follow the instructions given below.
Open

VLC Media Player

and click on

Tools button

in the toolbar and select

Preferences

.

Choose the

Video

tab

at the top of the

Preferences

window.

Change the

Video Output

setting from the dropdown list to

OpenGL Video Output

. (The default is

Automatic

)

Finally, click on

Save button

to close the

Preferences

window.
Hopefully, this might solve the choppy playback issue on VLC Player for some people. Overall, VLC Media Player is a versatile and flexible 4K video player for PC that can be used to play almost all kinds of videos.
2. Media Player Classic
Media Player Classic is another free and open-source media player for windows. MPC is a lightweight and simple media player. MPC adapts the looks of Windows Media Player 6.4 that was included with Windows 98. However, don't get fooled by the looks of this awesome, yet compact, media player as it outplays most of the modern media players regarding functionality.
However, in order to enjoy 4K video playback on Media Player Classic, it is mandatory to install K-Lite Codec Pack which adds the support for a number of video formats and 4K video playback.  The combination of K-Lite Codec Pack and Media Player Classic is very popular and is preferred by a lot of users due to its simple UI and functionality.
Using K-Lite Codec Pack with MPC, you can enjoy smooth and seamless 4K video playback at its best. Looking for a simple yet compact 4K video player for PC? You know which is the best 4K video player to download.
3. DivX Video Player
DivX Video Player is a free 4K media player for PC that supports some video file formats with the help of integrated codec packs. It also offers seamless support for 4K videos and videos using HEVC technology. DivX Player also allows you to stream any video from your PC to any of your DLNA-compatible devices, such as PS3, Xbox, etc. DivX Player features a graceful and comprehensive GUI that allows users to configure everything easily.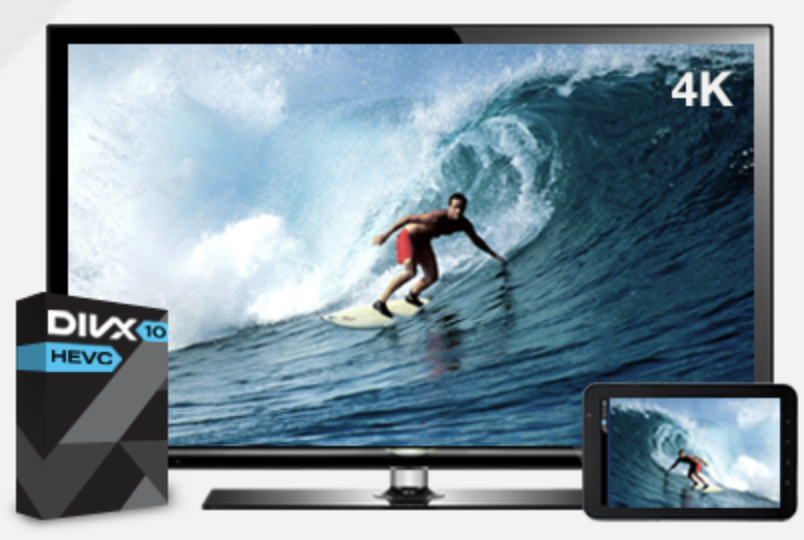 While the free version of DivX Video Player is also available, you can also opt to go for DivX Pro that offers a lot of additional features for a price of $19.99. DivX Player is a great choice for playing 4K videos as it offers high-quality playback for 4K videos.
4. KMPlayer
KMPlayer is a free media player that offers integrated codec support for any video file you might encounter. In addition to extensive video playback support, KMPlayer features superb modern GUI that offers unmatched accessibility and usability. KMPlayer also offers high-resolution playback support for 3D videos and 4K Ultra HD videos. As long as your hardware is adequate to play a high-resolution video, KMPlayer can most probably handle it.
Moreover, KMPlayer also offers multilingual support, video capture support, and advanced configuration options that allow users to customize KMPlayer as per their preference. According to KMPlayer's official website, KMPlayer currently supports Windows 2000, Windows XP, Windows Vista (32-bit), and Windows 7 (32-bit). Hence, if you're on one of these operating systems, KMPlayer might be the video player you're looking for.
5. 5KPlayer
5KPlayer is yet another free media player that offers some exciting features along with media playback. It supports high-quality video playback for 4K Ultra HD videos, 360-degree Virtual Reality videos, 3D videos, and even 8K videos. 5KPlayer also offers support for Dolby Surround Sound technology. In addition to video playback, 5KPlayer also offers online streaming support through a number of protocols.
5KPlayer also supports Apple AirPlay technology, allowing you to stream anything from your PC to your Apple TV or AirPlay speakers just like your iPad or iPhone. Additionally, 5KPlayer also features an integrated audio and video downloader that can download videos from many popular streaming websites, including, YouTube, Vimeo, Pandora, etc. All in all, 5KPlayer is a great multimedia player that offers some additional features along with 4K video playback.
Also Read: 8 Best Linux Media Players for Playing Media Files on Linux OS
The Pro Review From TechReviewPro
Despite the fact that all of these video players offer 4K video playback support, you need decent hardware that houses adequate raw processing power to process high-resolution videos. Hence, if you are experiencing choppy or sluggish playback, then you might want to consider upgrading your hardware to enjoy smooth video playback.
However, if you have the required hardware specifications available, you may choose any of the above-mentioned best 4K video players for PC. Most of these 4K video players are free, but some do come with upgrades to offer more features. Be sure to check them out. If you don't want to spend any penny, open source 4K video players like VLC will do the magic.
Which is your favorite 4K video player for PC? Do let me know in the comments below.
Related Resources: